Greta Gerwig And Orlando Bloom Cast In 'Lola Versus'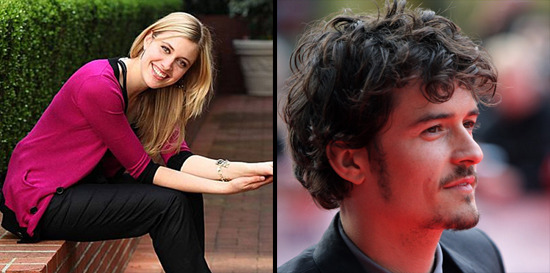 The new version of Arthur didn't do so well, but co-star Greta Gerwig, who took on the Liza Minelli role, came out of it all more or less untarnished. She has already shot Whit Stillman's very long in the making Damsels in Distress (fingers really and truly crossed for that to be good), and is now set for a new Fox Searchlight comedy with the intriguing title Lola Versus. (I think I saw that band play once in the '90s.) And she might have company, in the form of Orlando Bloom, who is evidently making a full return to the screen after a few years away.
Variety gives up the synopsis like a waiter handing over a fragrant, filled to the brim cocktail:
Gerwig will star as a woman who is dumped just weeks before her wedding by her college sweetheart, prompting her to embark on a series of encounters in an attempt to discover her place in the world as a single woman before she turns 30.
Some foreign distribution sales will be going on soon at Cannes, and the film is set for a June shoot in New York, with Daryl Wein (Brekaing Upwards) directing from a script he co-wrote with Zoe Lister-Jones (Delocated, The Other Guys, Stuck Between Stations).
One question that might be pertinent here is: how are so many films getting made that put comic female characters front and center? And my 'so many' I mean 'more than, like, two.' It's not like the market is yet saturated with films that star smart comic women in stories about smart funny women, but we're seeing more than is sometimes the case. I don't have any deep analysis of what might be a mini-trend to offer at this point, but 'yay' is probably good enough.