First Look: Rod Lurie's Remake Of Sam Peckinpah's Harrowing 'Straw Dogs'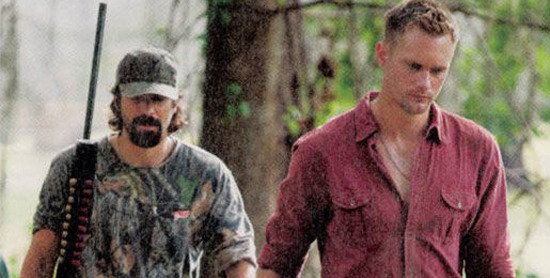 When Hop came out last month, bringing James Marsden back into the public eye, I wondered one thing: where the hell is Straw Dogs? Rod Lurie scripted and directed a remake of Sam Peckinpah's polarizing film nearly two years ago, putting the movie into production in late 2009. Doing so attracted no small amount of negative attention, as the original film was one which sharply divided audiences but stands as one of Peckinpah's most significant achievements. How does one make a new version, especially with James Marsden standing in for Dustin Hoffman? (No offense to James Marsden, but some simple truths must be faced, and one is that very few actors are equal to a young Dustin Hoffman.)
We've not seen any footage from Straw Dogs, and in fact we've had a peek at barely any materials at all. So here are some of the first real images from the movie. They're not wildly exciting — neither will give you any idea of how Rod Lurie has actually handled the remake — but they serve to remind us that the movie does in fact exist.
EW has the stills in a new issue, and ever-ready with the scanner, The Playlist passes them along. We'll likely see better versions down the line, and hopefully this means that a trailer of some sort is in the offing.
Like the Sam Peckinpah original, this version is also based on the novel The Siege of Trencher's Farm by Gordon Williams. We don't know too much about this remake, other than that the action has been set in Louisiana rather than rural England. In the original, Dustin Hoffman is a mathematician who moves with his wife (a willowy, gorgeous Susan George) to her childhood home. Life in the small English village where she grew up is meant to be an intellectual retreat, but the boys of the village, grown into men, are pointedly interested in the woman their childhood acquaintance has become. There is a rape — one which is more controversial than most on-screen rapes — and things build to a violent head involving many men of the village. The film culminates in a long, devastating siege of the farmhouse where the couple resides.
So, the images. On the right in the gallery above are James Marsden and Kate Bosworth, likely as they travel from LA to Louisiana. And on the left is the lead antagonist of the film, played by Alexander Skarsgaard, and one of his friends/cronies, Rhys Coiro. The cast also includes James Woods, Dominic Purcell, Laz Alonso, Willa Holland, Anson Mount, and Walton Goggins.
Speaking to CHUD in 2008, Rod Lurie said this would not be a shot for shot remake, and specifically,
I've probably already lost the majority of critics before I shoot one frame of the film because there's a certain 'How dare you' mentality that will spread throughout the critical community. But I think that Straw Dogs as a story is eminently remakable. It can be modernized and Americanized without a problem and without giving up any artistic integrity... Straw Dogs, to my mind, was not necessarily breaking any boundaries other than the depiction of women, and a rather seismic departure from the way any woman had been shown on screen, especially in terms of sexuality. The trick here is that doesn't become the focus of this film. I'm remaking Straw Dogs, I'm not remaking Sam Peckinpah's Straw Dogs. By that, Devin, I mean that I'm not necessarily trying to follow his themes. I'm not going to necessarily instill in audiences the same emotions that it instilled in audiences in 1971 when the film came out.
There are other statements in that interview that prove Rod Lurie didn't take a cavalier attitude to making this film, but as to whether his movie will be compelling in and of itself remains to be seen.
Sam Peckinpah identified Dustin Hoffman as the 'heavy' of the film — the bad guy — because his character's insecurity is what prods much of the action along.  Is that how Rod Lurie has handled this version, which also casts the main character as a screenwriter, rather than a mathematician? And Sam Peckinpah's alcoholism really became a dominant force during the making of Straw Dogs; it isn't difficult to see some of the same self-identification between him and Dustin Hoffman's character just as there was a link between Peckinpah and Warren Oates in Bring Me the Head of Alfredo Garcia. There's powerful stuff there that makes the original movie what it is. This movie might still be powerful, but how is an unknown.