'Frankenstein's Army' Teaser Clip: Unearthed Newsreels Reveal Shocking Nazi Zombie Forces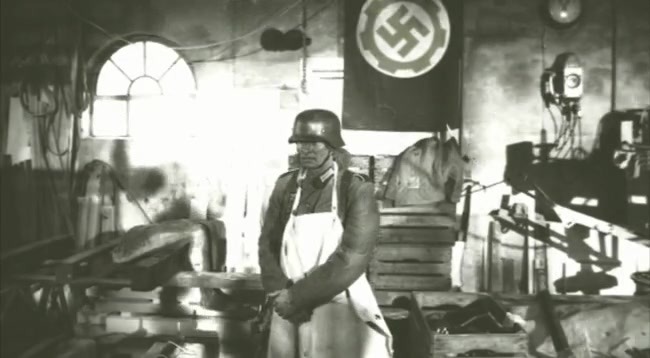 A few years ago Dutch director Richard Raaphorst (also a storyboard artist and title designer) was trying to make a zombie film called Worst Case Scenario. That never came together, despite the presence of some teaser clips that people liked quite a lot.
Now he's putting together a film called Frankenstein's Army, in which a Nazi unit tries to salvage the last days of WWII by using Victor Frankenstein's reanimation techniques to create an undead army. There are two teaser clips for this film, too, and both are excellent. See the weird and effective footage after the break.
What will the final film look like? We don't know. Press releases have said, "using shocking vintage newsreel footage as his jumping-off point," so it is possible that Frankenstein's Army will be a WWII-era found footage film. That's what the promo clips below look like, and they're great. Or the final movie could be something else altogether. The shoot is planned for September in Prague, so we'll have some time to wait before learning more.
Twitch presents the footage (the site's founder and EIC Todd Brown is a producer on Frankenstein's Army) and this synopsis:
Toward the end of World War II, Russian soldiers pushing into eastern Germany stumble across a secret Nazi lab, one that has unearthed and begun experimenting with the journal of one Dr. Victor Frankenstein. The scientists have used the legendary Frankenstein's work to assemble an army of supersoldiers stitched together from the body parts of their fallen comrades – a desperate Hitler's last ghastly ploy to escape defeat.
This is the new teaser clip:
And here's the first teaser clip:
The official site will have more info soon.