More Details Revealed About Quentin Tarantino's 'Django Unchained'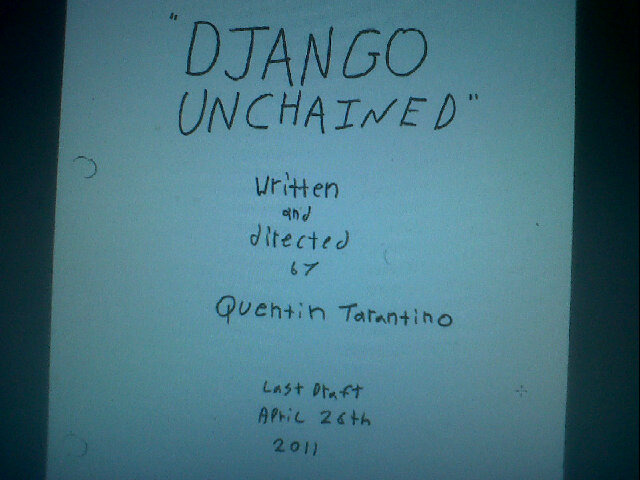 Friday afternoon, a Hollywood insider tweeted a photo of the cover page to the long rumored Quentin Tarantino spaghetti western script. The title on the page, seen above, was Django Unchained and the reveal set off a slew of news about Tarantino's next directorial effort. Our original story was updated with some information but, being as most of it happened over the weekend and we're talking about the next movie by Quentin Tarantino for God's sake, we figured it was time for a big update: what's confirmed, what's the status of the project, what's it about, a quote from Tarantino and more.
The news originally broke on Twitter and was followed by us seconds after HitFix got to it. The flood gates then opened up.
Anne Thompson confirmed that Django Unchained was indeed the title and that, despite rumors of several people attached, the only actor confirmed is Christoph Waltz, who won an Oscar working with Tarantino in Inglourious Basterds. Tarantino's agency confirmed the plot line as follows:
It's a western whose lead character is a former slave who is in league with Waltz to save his wife from an evil plantation owner.
That goes along with a plot description Shadow and Act picked up from a commenter over on Hollywood Elsewhere:
Django is a freed slave, who, under the tutelage of a German bounty hunter (Christopher Waltz) becomes a bad-ass bounty hunter himself, and after assisting Waltz in taking down some bad guys for profit, is helped by Waltz in tracking down his slave wife and liberating her from an evil plantation owner. And that doesn't even half begin to cover it! This film deals with racism as I've rarely seen it handled in a Hollywood film. While it's 100 percent pure popcorn and revenge flick, it is pure genius in the way it takes on the evil slave owning south. Think of what he did with the Nazis in Inglorious and you'll get a sense of what he's doing with slave owners and slave overseers in this one.
The Playlist then dug up an older quote from Tarantino's where he was obviously talking about Django Unchained, we just didn't know it at the time:
I'd like to do a Western. But rather than set it in Texas, have it in slavery times. With that subject that everybody is afraid to deal with. Let's shine that light on ourselves. You could do a ponderous history lesson of slaves escaping on the Underground Railroad. Or, you could make a movie that would be exciting. Do it as an adventure. A spaghetti Western that takes place during that time. And I would call it 'A Southern.'.. I want to do movies that deal with America's horrible past with slavery and stuff but do them like spaghetti westerns, not like big issue movies. I want to do them like they're genre films, but they deal with everything that America has never dealt with because it's ashamed of it, and other countries don't really deal with because they don't feel they have the right to.
Deadline reports the project, which will be distributed domestically by The Weinstein Company, is "moving very quickly" with several studios, including Warner Bros., Paramount and Sony, all interested distributing the film internationally. Depending on cast availability, it could shoot as soon as late summer. Tarantino is also expected to have his way with casting.
That's a whole lot to digest and we haven't even touched upon the history of the Django character, the other films he's appeared in, been referenced in and more. Hitfix has a great rundown of that stuff (my favorite quote: "It's no accident that Boba Fett's dad is named Jango in the "Star Wars" prequels.") and you can watch the original 1966 Django on Netflix Watch Instantly right now. Suffice to say, there will be much more to say about Tarantino's latest in the coming months.