8 New Images From 'The Twilight Saga: Breaking Dawn'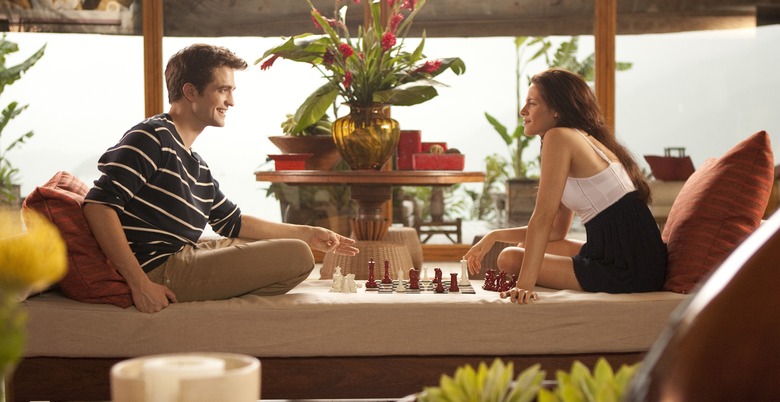 We at /Film are well aware of how much you guys love Twilight news, so we try our best to keep you updated on the latest in the phenomenally popular sparkling-vampire series. To that end, we have a batch of new The Twilight Saga: Breaking Dawn – Part 1 images that have just been released via press release, just days after we posted the last set of stills. You're welcome.
The new photos include images of Michael Sheen and Jamie Campbell Bower (a.k.a. Gellert Grindelwald from the Harry Potter series) as vampire coven leaders Aro and Caius, Jacob Black (Taylor Lautner) looking tough on a motorcycle, and Edward (Robert Pattinson) and Bella (Kristen Stewart) playing chess in what appears to be a Pottery Barn catalog. Mull 'em over after the jump.
Is it just me, or does RPattz look significantly less chalky here than he has in previous installments? You honestly can't tell from most of these photos that he's supposed to be a supernatural creature — he looks indistinguishable from a regular ol' mortal. I wonder if that makes Bella love him less?
Disappointingly, the stills don't include any images of the (spoiler alert!) vampire baby birth scene we've all been looking forward to. Stewart has said in the past that the scene doesn't feature her "puking up blood," but hasn't given a ton of hints as to what it actually does show:
It's funny because when [the PG-13 issue] comes up, everybody thinks it's all about the sex... The birth is really effective, and I've heard it really hits you in the face. But what it could have been? It could have been shocking and grotesque, because that's how it was written in the book... I would have loved to have been puking up blood.
As with the Harry Potter franchise, The Twilight Saga has split the final installment of the series into two parts. Part 1 of The Twilight Saga: Breaking Dawn opens November 18, 2011 while Part 2 will be released November 16, 2012. Bill Condon (Dreamgirls, Gods and Monsters) is directing both parts.