Kathryn Bigelow's 'Kill Bin Laden' May Be The Best-Positioned Movie Project In Town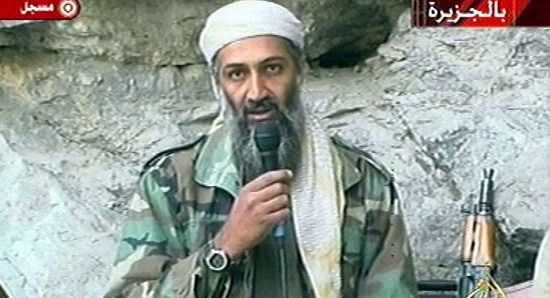 So will the inevitable 'Death of Bin Laden' film be a gritty indie or big studio effort? As soon as President Obama announced that Osama Bin Laden had been killed, you know that studio execs started calling each other to figure out what properties were already in development that could be reworked as a movie about the killing of Bin Laden.
It was only an hour after the first announcement that the Al Qaeda leader was dead that Deadline ran a piece about two Bin Laden films that are close to a starting point. One is a Paramount film based on the book Jawbreaker, written by CIA operative Gary Bernsten, which is about the first attempt to kill Bin Laden in the initial invasion of Afghanistan that took place right after 9/11.
The other film is Kathryn Bigelow and Mark Boal's movie Kill Bin Laden — that's the small 'black ops thriller' that the two have been prepping parallel to Triple Frontier. We heard months ago that the film might be about the hunt for Bin Laden, and while that news was denied at the time, turns out it was quite correct. And now it looks like Kathryn Bigelow will be the one to bring a Bin Laden movie to the screen first.
Turns out that Kill Bin Laden was written about the exact special ops unit that did kill him, says Variety, although the original script was about a failed mission. So it is rewrite time, and the trade says the film is set to go into production this summer. Now the film will probably climax with the firefight that actually killed Bin Laden, and the film will have a new happy ending (things being relative, of course) that reflects the actual events of this past weekend.
(Mark Boal, who was a reporter before being a screenwriter and producer, has extensive intelligence contacts, which have been part of the source of his material for both The Hurt Locker and now Kill Bin Laden.)
And Joel Edgerton is said to be the likely lead at this point, per THR. There could be no small irony if that does work out, given that he lost the lead in the new Bourne film to Jeremy Renner, whose profile was significantly elevated by The Hurt Locker.
The question now will be whether Kathryn Bigelow can get her movie under way first while facing down studio competition to fast-track films like the one based on Jawbreaker. Kill Bin Laden was already steadily moving forward, but there is still work to do, and the Bigelow/Boal team seems to be cautious and methodical about constructing films; they're not likely to rush something into production just to do it.
Meanwhile, the first documentary about the death of Bin Laden will likely be Killing Bin Laden, which the Discovery Channel announced as an "insta-mentary" (huh?) that will debut on Sunday, May 15.
And them, almost as an absurdist comic coda to this whole story, there is Operation Belvis Bash. What the hell is that? Why, Cory Feldman's latest movie! It premiered in Houston on Sunday night, and evidently features its own 'killing of Osama Bin Laden' scene. Read all about that at Movieline if you wish, and know before hitting that link that the film also features The Iron Sheik and Frank Stallone. Try to keep your pants on while reading the info there, please. I know it will be difficult.