Jeremy Renner Developing And Planning To Star In Steve McQueen Biopic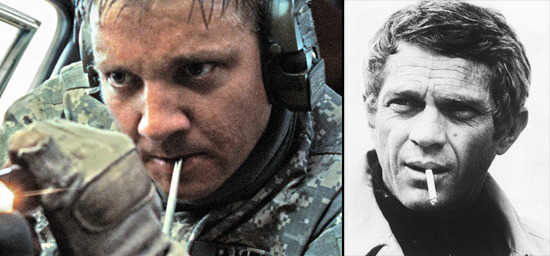 Jeremy Renner is a machine. He's leaping from Mission: Impossible to Hansel & Gretel to The Avengers and then likely to The Bourne Legacy, and at some point will squeeze in voice work for the fourth Ice Age film. Got to take the big opportunies while they're around, and The Hurt Locker created them left and right.
But he's taking control of the more distant future of his career by forming a production company, The Combine, to develop and produce projects. The first one will be scripted by Two Lovers and We Own the Night writer/director James Gray, and will be a biopic of first-generation action movie star Steve McQueen. Jeremy Renner will play the central role himself.
THR has the report, saying that the script will be based on two books about the actor: Portrait of an American Rebel and The Life and Legend of a Hollywood Icon, both by Marshall Terrill. The film is intended as the feature debut of commercial and music video director Ivan Zacharias.
Steve McQueen, the 'King of Cool' was the highest-paid star in the world by the mid-'70s, and essentially defined the template for the action movie star with his mix of anti-hero, rugged loner and real-world charisma.  He was a volatile personality and daredevil who liked to perform his own stunts and was an avid car and motorcycle racer. Jeremy Renner might be as close to a perfect fit to capture his personality as we're likely to see in this generation; whether a Steve McQueen biopic is really the best idea remains to be seen.
Here are a few ads directed by planned director Ivan Zacharias; the third one is probably the best indicator of his suitability for the Steve McQueen film.