Ian McShane Will Play The Lead Dwarf In 'Snow White And The Huntsman'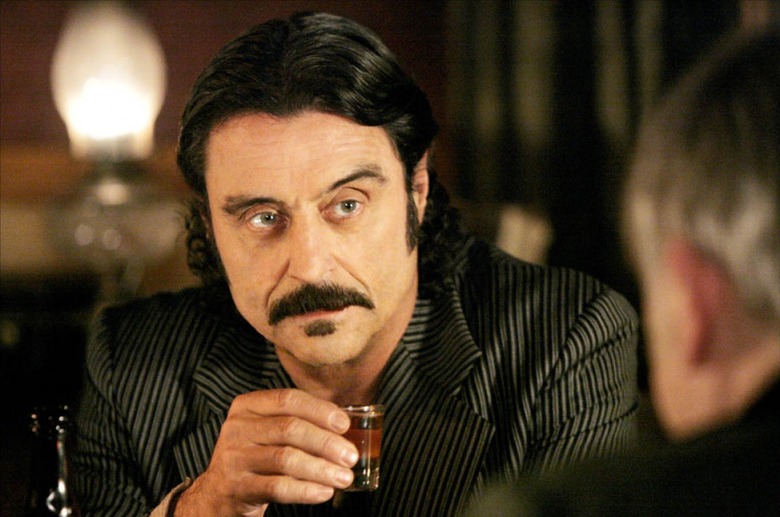 One of the things that sets Universal's Snow White and the Huntsman slightly apart from some of the other new takes on Snow White is the way it incorporates the dwarfs. In this version there are eight dwarfs, each of which is named after a Roman ruler.
Now the first of those characters has been cast: Caesar, the oldest of the eight, and an enemy to the Queen and old friend to Eric, the Huntsman (Chris Hemsworth). We've known that actors would be made to look small via on-set tricks and post-production effects. The first guy you can start imagining reduced to a few feet tall is Ian McShane.
In the script, the dwarfs are:
Caesar: the eldest, with the longest beard.
Nero: the angry one.
Tiberius: the biggest and burliest.
Hadrian and Trajan: the twins.
Constantine: solemn and blind.
Claudius: the timid one.
Gus: young, unbearded, seemingly smitten with Snow White.
Rupert Sanders will direct Snow White and the Huntsman from a script by Evan Daugherty. Chris Hemsworth plays Eric, the Huntsman charged by the evil queen (Charlize Theron) with killing Snow White (Kristen Stewart) but who mentors her instead in the ways of survival and combat. Sam Claflin (Ian McShane's co-star in the latest Pirates of the Caribbean film) will play the Prince.
We don't know the other dwarf casting, but this is certainly a good start. But with seven big roles left to cast and quite a few competing films shooting this summer, Universal might have to get creative with choices. Shooting is set to start in August, and the film will be released on June 1, 2012. [THR]