New 'Thor' Clip Shows Off Sif, Destroyer And Warriors Three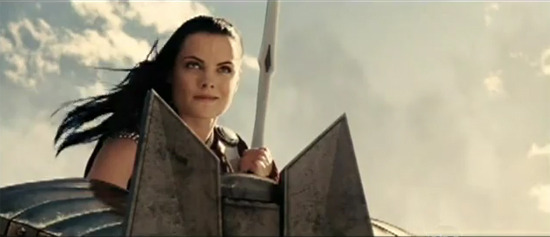 Depending upon where you live, you might have already been able to see Thor, but for US residents the film doesn't open until May 6. We've seen a couple clips from the movie, and they've been not quite inspiring, though international reviews suggest that any severe worries about the film's ability to entertain are probably unfounded.
But there's a new last-minute look at the film. Appearing on Jimmy Kimmel Live last night, Jaimie Alexander, who plays Sif, was introduced with an action-packed clip that might be more along the lines of what people are hoping to see from the film. Check it out after the jump.
If you've seen any trailer for the film, you'll recognize this as footage from one of the film's big battles, as the giant war machine Destroyer is sent to Earth to hound Thor and his companions. The effects here look solid, and it is good to get a look at some of the supporting characters that haven't been given as much time in trailers so far.
The clip hits about ten seconds into the video below. Watch the whole thing for a slightly awkward wrestling match between Jimmy Kimmel and Jaimie Alexander.