Brett Ratner Attached To A New, Different 'Hercules'?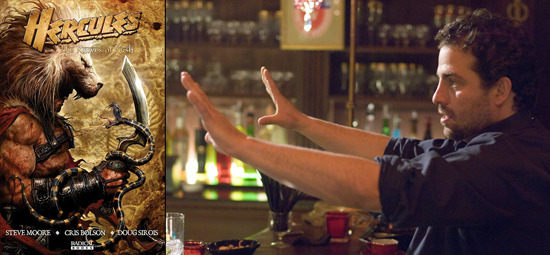 Almost exactly a year ago, Brett Ratner was attached to direct a Millennium/Nu Image film based on the legend of Heracles/Hercules. The film was in development for years, but after Brett Ratner was attached to direct that he went on to make Tower Heist, and we haven't heard much about Hercules at all.
Now the Ratner/Hercules pairing returns, but in different form. this time housed at MGM and going under the name Hercules: The Thracian Wars.
Vulture says that Ratner is attached to adapt the Radical Publishing coming that goes by that same name, from a film script by Ryan Condal. Spyglass Entertainment optioned the property and was developing it with a distribution deal with Universal, but now that Spyglass is the de facto force behind MGM, we can evidently expect the lion logo to run in front of the film.
Assuming it gets made, that is; we've seen Ratner's name attached to several non-starting films over the years. But if these reports are all accurate then his affinity for Hercules might run deep, in which case this has a better chance than most.
Here's how the Radical Publishing website positions the comic:
Veteran comic book writer Steve Moore returns with designs from industry legend Jim Steranko to take the hero of myth across the seas and into the supernatural lands of ancient Egypt. But while his band of mercenaries recovers from the bloody brutality of the Thracian Wars, they face a threat that cannot be solved so easily with the edge of a sword: palace intrigue, spies, assassination, and the mystery of a death cult known only as...THE KNIVES OF KUSH.