Casting Notes: Jane Lynch In 'The Three Stooges;' Kristen Wiig A Front-Runner For Sacha Baron Cohen's 'The Dictator'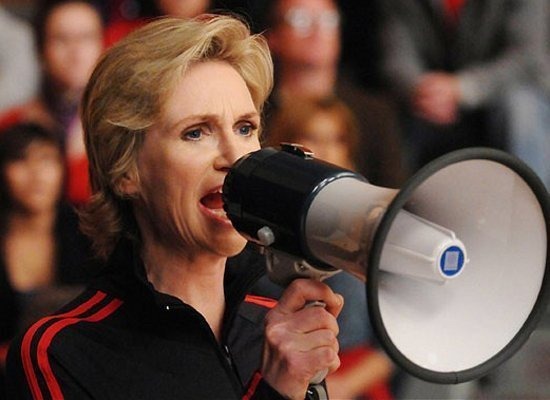 The latest casting for The Three Stooges puts the great Jane Lynch in the role of Mother Superior, the nun who runs the orphanage where the Stooges grow up. (Cher was once mentioned for the role.) That means she'll be a big part of the first of the film's three segments, which takes place with slightly younger Stooges; it's conceivable that she'll be in the other segments, too, likely with less screen time.
Jane Lynch will be the very experienced comic voice to complement Chris Diamantopoulos as Moe, Will Sasso as Curly, and Sean Hayes as Larry. The film begins shooting in Atlanta within the next couple weeks. No idea what to expect out of this Farrelly Brothers effort, but it is their long-standing passion project (as weird as that seems to some) and I keep hearing rumors of really extravagant slapstick setpieces. That's enough to keep me interested, at least. [Deadline]
After the break, Sacha Baron Cohen's new film, The Dictator (which seems to be a remake or riff on Charlie Chaplin's The Great Dictator, more or less) is considering a few different strong female leads.
THR has a shortlist for The Dictator, which Borat director Larry Charles will helm for Paramount. The film is reportedly "the heroic story of a dictator who risked his life to ensure that democracy would never come to the country he so lovingly oppressed," with Sacha Baron Cohen playing dual roles: a goat herder and a deposed dictator who gets lost in the US. So perhaps not a remake of The Great Dictator, exactly, but certainly inspired by it.
The reported actress shortlist is Kristen Wiig, Anna Faris, and Gillian Jacobs from Community. But the film could end up going with someone else — that list definitely gives you an idea of the type that is being sought. That is, pretty, smart and good with rapid patter. The ability to improv is also of high importance, as one would expect for a film with Sacha Baron Cohen.
Jason Mantzoukas is also in talks to play "Cohen's sidekick, a fellow from the Middle East."