'Too Big To Fail' Trailer - There Goes The Economy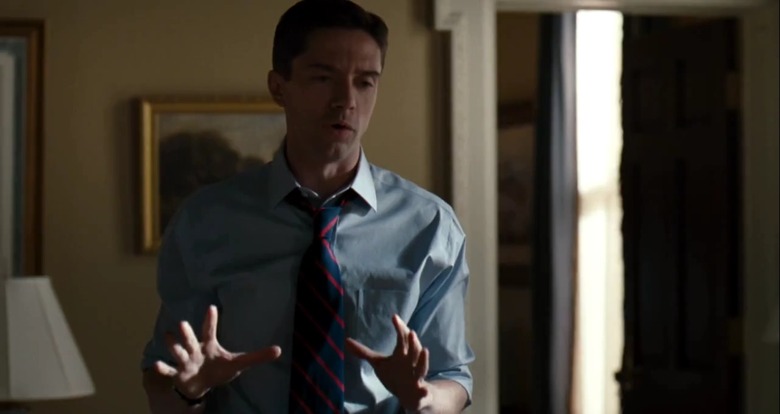 Did you enjoy the economic meltdown so much the first time around that you just can't wait to relive it? Then has HBO got the film for you. Too Big to Fail tells the story of the 2008 financial crisis, as chronicled by Andrew Ross Sorkin in his bestselling book of the same title. William Hurt stars as Treasury Secretary Henry Paulson, alongside Paul Giamatti as Federal Reserve chairman Ben Bernake. Watch the trailer after the jump.
Apparently, HBO's become the go-to network for dramatic recreations of recent political events starring famous actors. In addition to Too Big to Fail, there's also 2008's Recount, about the contentious 2000 presidential election, and the upcoming Game Change, based on John Heilemann and Mark Halperin's nonfiction book about the 2008 presidential race.
In all seriousness, Too Big to Fail looks intriguing. HBO Films has a pretty solid track record, and the story ought to resonate with audiences, seeing as we're still recovering from the events of 2008. And then, of course, there's the strong cast — Hurt and Giamatti are part of a large cast that also includes Edward Asner, Billy Crudup, Paul Giamatti, Topher Grace, Matthew Modine, Cynthia Nixon, Michael O'Keefe, Bill Pullman, Tony Shalhoub and James Woods.
Too Big to Fail is directed by Curtis Hanson (L.A. Confidential, 8 Mile) from a script by Peter Gould (Breaking Bad). It will premiere Monday, May 23 at 9 PM on HBO.
Here's the official synopsis from the HBO website:
Based on the bestselling book by Andrew Ross Sorkin, Too Big to Fail offers an intimate look at the epochal financial crisis of 2008 and the powerful men and women who decided the fate of the world's economy in a matter of a few weeks. Centering on Treasury Secretary Henry Paulson, the film goes behind closed doors to examine the symbiotic relationship between Wall Street and Washington.