Superhero Bits: New 2-Minute 'Green Lantern' TV Spot; Possible 'Dark Knight Rises' Make-Up Test Photo, Filming Headed To India; 'Spider-Man' Shoot Update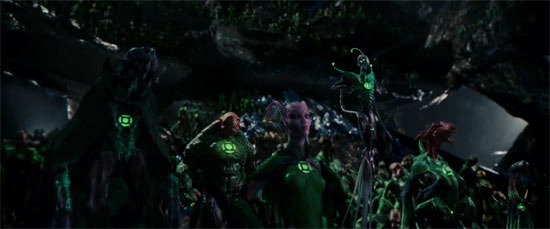 If you're planning on watching only one trailer to sell you on Green Lantern, make it this one.
That suggestion is probably coming a little late. Marketing has been in full swing for Green Lantern since the end of last year, and first impressions weren't great. Either the studios were deliberately leaning on the Earth-bound storyline in hopes of presenting the material in a way that audiences would find more palatable (read: it looked lamely derivative), or this was the soonest they could render enough of the CGI to properly market the film. Whatever the explanation, I am now fully amped for this film, which looks exactly as crazy and otherworldly as one would hope for a film based on a comic book teeming with alien beasties. With only 30-seconds more than the previous extended TV spot, most of the footage is the same, but the enhanced pacing and set-up provided in those additional 30-seconds are very welcome.
Check out the spot, along with some brief updates on The Dark Knight Rises and The Amazing Spider-Man, after the break.
[via Nerd Bastards]
Next up in comic book movie news is... this photo of Christian Bale's brutally bruised face.
[No photo]
The shot is purported to be a leaked make-up photo test for The Dark Knight Rises. The key word being 'purported'. Bale is currently filming The 13 Women of Nanjing (which we've already gotten our first look at), so it's very possible that we'll be seeing him get a facial-beating in that movie. Just as likely, this shot is representative of what Bruce Wayne will look like after trying to go head-to-head with Bane. In which case, it looks like Bane's head won. [MovieWeb]
Just in case that piece of Dark Knight Rises speculation proves false, here's an official update: The film will be shooting scenes in India.
The majority of filming will take place in Pittsburgh, as confirmed by Christopher Nolan himself, but evidently Gotham won't be the only city appearing in the film. Additional sequences will be shot in Jodhpur, the second-largest city in the Indian state of Rajasthan, hopefully providing the film with a touch of multi-cultural flavor. [Daily Bhaskar via SuperHeroHype]
Here's another quick shooting update for you: The Amazing Spider-Man is going to be wrapping up filming in the next couple weeks. When discussing what work was left to be done on the film, Emma Stone (who plays Gwen Stacy), shared this: "We leave tomorrow for New York. We're doing exteriors in New York for a couple of weeks, so it'll be done in mid-May. [Laughs] So, yeah, it was only a six-month shoot." The film is set to hit 3D and 2D screens on July 3, 2012. [E! Online via SuperHeroHype]