District 3 Tributes Cast For 'The Hunger Games'; John C. Reilly Has NOT Been Offered Haymitch Role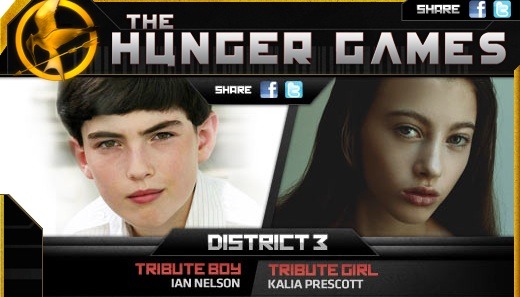 Tired of casting for Gary Ross adaptation of The Hunger Games clogging your RSS feeds? Sorry folks, we still have a ways to go. The most recent additions to the line-up are Ian Nelson and Kalia Prescott, two newcomers who will be helping fill out the cast for the 24 children selected to fight to the death. As you can see from the above photos, worries that the casting process would skew older to downplay the intense subject matter may have been for naught. Their characters are unnamed too, so — having not read the book — I can only assume that they will be meeting an untimely end. What fun!
Those familiar with the source material will know what "Tribute Boy" and "Tribute Girl" means, but here's a quick refresher course for those of you who aren't up to date on the lingo. 'Tributes' refers to the residents — a boy and girl from each District — who are forced to participate in the annual Hunger Games. Each District (of which there are 13 in total) has their own specialty, and District 3 is known for specializing in electronics and technology.
In related news, there's been some confusion surrounding John C. Reilly's prospective casting as Haymitch Abernathy, the alcoholic former Hunger Games champion who mentors Katniss and Peeta. Some sites have been reporting (based on an article by NY Mag) that he's been offered the role, but according to Reilly's rep, "John does not have an offer. NY Mag never fact checked with anyone."
Apparently neither did Reilly's rep, as NY Mag made it clear that an offer had yet to go out to Reilly, but assured that one would likely be going out soon. So is this merely an issue of miscommunication run amok, or is Reilly not as close to locking down the role as previously thought? Only time will tell. Thanks to E! Online (via MovieLine) for the heads up.
As it stands right now, the cast of The Hunger Games includes Jennifer Lawrence (Katniss, the film's central character), Josh Hutcherson (Katniss' partner Peeta), Willow Shields (Katniss' sister Prim), Liam Hemsworth (Katniss' best friend Gale), Paula Malcomson (Mrs. Everdeen, mother to Katniss and Prim), Dayo Okeniyi and Amandla Stenberg (District 11 tributes Thresh and Rue), and Leven Rambin and Jack Quaid (District 1 tributes Glimmer and Marvel). Elizabeth Banks is in talks to play Effie Trinket, a mentor to Katniss and Peeta.
I'm still holding out hope that John C. Reilly joins the list.