Arnold Schwarzenegger Now Attached To 'Terminator 5' Package With Director Justin Lin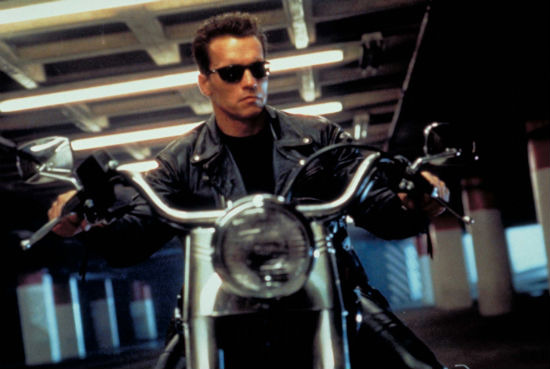 Tuesday afternoon in Hollywood, movie studios are bidding on a the rights to an as-yet-unwritten movie that would have Arnold Schwarzenegger return as the Terminator in a film directed by Justin Lin. According to Deadline, the package has several studios – including Universal, Sony and Lionsgate – salivating, even though it carries a hefty price tag of at least $25 million upfront against a purchase price around $36 million.
Basically this means that once a studio pays a hefty sum for the rights to this project, a fifth Terminator film starring Arnold Schwarzenegger and directed by Justin Lin is around the corner.
Deadline broke the news of this deal. They say a screenwriter has not yet been attached, which is odd as Chris Morgan had originally been attached and there's a treatment laying around by original Terminator co-creator William Wisher.
Lin talked about the film recently and confirmed that he had talked to Schwarzenegger about it:
I think one of the great things is that when I got started, no one would return my calls, and now I get a lot of phone calls, which is good. I have options. Terminator was one of my favorite films growing up. And I feel I have a take that I would love to see, and I've talked with Arnold and we've talked and we'll see. Again, I would love to do it, but it has to be the right circumstances. It has to be the right people. And there's other projects too. But I'm in a position now that I can choose more than I could a year ago, two years ago. So that is something that is potentially in my future, but when I get home I will sit down and look at my options and choose what I want to do.
And now, based on the international success of Fast Five, and its impending success here in the States, it seems like Lin has the correct clout to get this done.
As for Schwarzenegger, we knew he was considering a lot of roles, including The Last Stand, but his commitment to this project would surely be the kind of mega-blockbuster comeback he's surely looking for.
We'll obviously keep you updated on what happens with this story. But, at first glance, what do you think?