Kristen Bell Campaigns For 'Hunger Games' Role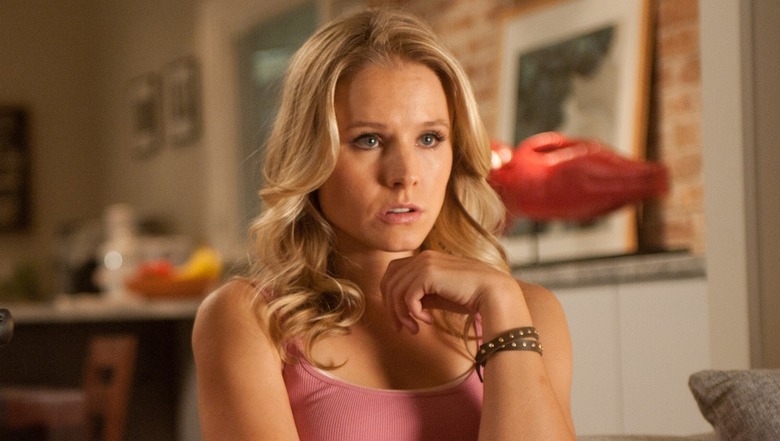 One of my best friends ran into Kristen Bell the other day at work (things like this happen on a weekly basis living in Los Angeles). Bell apparently reads /Film and has a message for /Film readers. She hand-wrote the message on a pice of paper –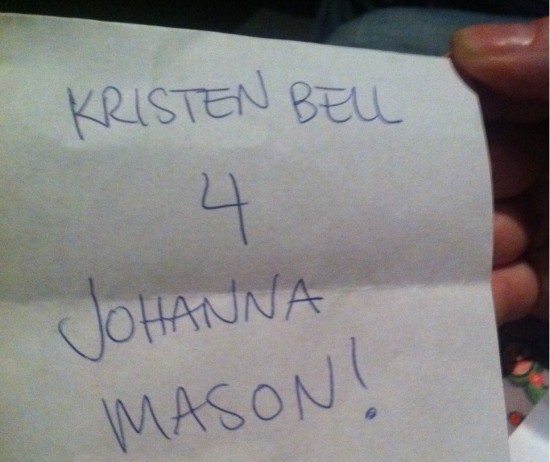 "Kristen Bell 4 Johanna Mason"
What does it mean?
Bell is a huge fan of the Hunger Games books, and last year, publicly tweeted about her obsession: "I'm not just 'a' hunger games fan. THE hunger games fan. read both books twice" ... "2nd time i read it aloud 2 friends & did different voices for each character. i am the king of the nerds!" She has even been praising the books in print, telling SHAPE: "It's a wonderfully engaging story about a young female gladiator. I read the first one in a day — it's that good." While some Hunger Game fans have included Bell on their dream cast listings, it seems like Kristen has her own idea of which character she would love to play.
According to the Hunger Games Wiki, Johanna Mason is "a female tribute from District 7 in an earlier and unspecified Hunger Games, and again in the third Quarter Quell. It is said that she was the victor of the Hunger Games a few years earlier. She was one of the younger tributes in this Quarter Quell. She is the last living female victor of District 7, whose principal industry is lumber."
Who knows if Bell has met with producers about the part, but she's clearly campaigning for the role. So Hunger Game fans, what do you think? Would Kristen Bell make a good Johanna Mason? If so, spread the word and help her out.