'Green Lantern' Increases Effects Budget To Battle Rising Problem In Hollywood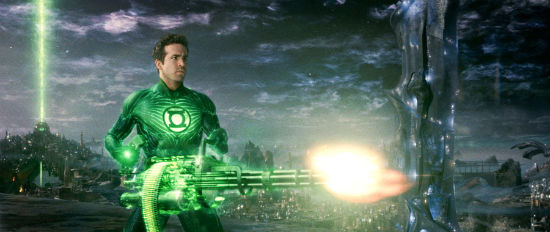 With an exorbitant amount of tentpole, big budget effects movies aiming to hit theaters this summer, it's no surprise that Hollywood visual effects houses are feeling the heat. Much as there are only so many studios making movies, there are only so many companies who can work on the effects for dozens of films like Green Lantern, Transformers: Dark of the Moon and Captain America: The First Avenger. Variety is reporting that overworked effects houses beholden by locked in release dates is becoming an increasingly disturbing problem in Hollywood. Warner Brothers has even thrown an extra $9 million at the effects budget of Green Lantern in order to get the film finished in time for its June 17 release but that's just the tip of the iceberg. Read more after the break.
According to Variety, the $9 million added to Green Lantern's effects budget shouldn't be a worry to fans. It's simply to "bolster the team that's been working overtime to meet the film's June 17 launch." Even more so than some of the other films, Green Lantern's effects are under scrutiny because of the issues fan had with the first trailer.
"There is no problem on 'Green Lantern,' said Chris de Faria, Warner's exec VP of digital production, animation and visual effects. "We try to add things to make the movie better until the 11th hour. That doesn't mean we're risking the movie up to the 11th hour."
$45 million was originally allotted to do the 1,400 effects shots on Green Lantern but the expense of 3D hadn't been considered. Because of that, an all CG pre-credits sequence was originally cut, but has now been reinserted thanks to the new funds.
Also feeling the pressure are Captain America: The First Avenger which is "on a shorter schedule than Marvel prefers" and Transformers: Dark of the Moon, which has one effects house working 12 hour days, 7 days a week, including Easter. Those are the only ones films Variety reports on, but they probably aren't the only ones feeling the pressure.
The Variety piece surmises that this visual effects crunch is going to become an increasing problem in coming years as effects get more ambitions and release dates get sooner. Studios sometimes select release dates for films before they have a cast or crew and then those people are forced to speed everything up, totally beholden to the release date. And while sometimes that date can change, usually that's not the case because of licensing deals.
Inversely, you can't simply solve the problem by giving production a larger window. Not only do audiences demand movies sooner rather than later, a larger window means much a bigger budget because more people are working for longer. Plus having more time could either give the filmmakers a false sense of security or the idea to be more ambitious than is possible. Odds are, they'd be pushing until the last minute anyway, such was the case was with Avatar.
Variety's piece has much more information on this problem so head over there to read even more. Does this kind of thing worry you? Studios believe audiences demand bigger and better effects each and every year. Is that the case? Should studios curb back their effects?