Cool Stuff: Tim Doyle's '2001: A Space Odyssey Poster' And 'The Wire' Handbill Set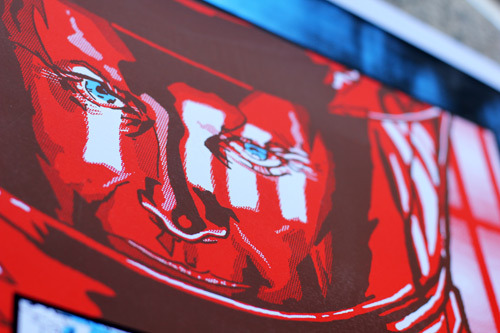 If you've been paying attention to /Film, you're probably already aware that we heart artist Tim Doyle — we're huge fans of his distinctive style, as well as his obvious love of cinema. Most recently, we showcased a series of Quentin Tarantino-inspired pieces that were displayed earlier this month at the Bold Hype Gallery in New York City. Now, Doyle's taking on Stanley Kubrick and HBO's The Wire in some new posters — check them out after the jump.
[via Obsessed with Film, Tommy Good, and Nakatomi]
Doyle clearly hasn't lost his knack for creating eye-catching takes on familiar scenes. Kubrick's 2001: A Space Odyssey is among the most visually iconic films ever made, and Doyle does it justice with this beautiful illustrations. His two posters for The Wire feature most of the characters from the sprawling cast, divided neatly into two groups. Unfortunately, the one thing that truly sucks about Doyle is that his posters have a way of getting sold out — neither of The Wire posters are in stock anymore.
You might have better luck with the 2001: A Space Odyssey poster, which yas yet to go on sale — sign up for the mailing list on the Tommy Good website to get further details on the release. The 2001: A Space Odyssey print will be available in two editions: a regular edition that'll run you $33, and a silver foil variant for $53. Both versions measure 16x26. As you can see in the bottom of the posters, Doyle originally designed them for a screening of the film which took place at the Astor Theatre in Melbourne this past weekend.
In the meantime, if you've enjoyed these posters, be sure to go back and revisit some of Doyle's older works. My favorites are the Blade Runner piece, the Bill Murray poster, and the Transformers Shepard Fairey parody — it's silly, but it makes me laugh.
[Note: An earlier version of this post mentioned an A Clockwork Orange poster that was incorrectly attributed to Doyle. The correct artist for the A Clockwork Orange piece is Rhys Cooper.]