Superhero Bits: Isaiah Mustafa Met For 'Luke Cage'; Captain America And Tony Stark Will Go Toe-To-Toe In 'The Avengers'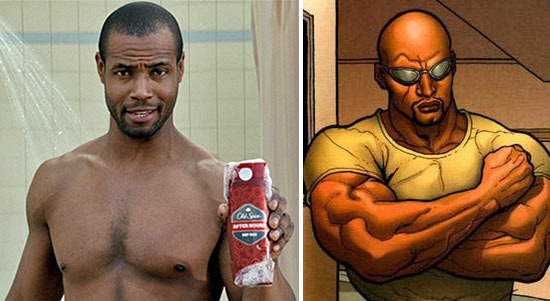 Luke Cage isn't one of Marvel's higher-end properties, but in keeping with their strategy to build smaller budget action pics (about $20-$40 million) around their third tier characters, they've been slowly making progress on bringing the urban hero to the big screen. At one point John Singleton was attached to direct, and Tyrese Gibson (Fast Five, Transformers) was in talks to take on the role. That started around 6-7 years ago though, so that time may have passed.
The time hasn't passed for Marvel, however. Just last year, the studio was said to be in preliminary talks for the film with "a notable Hollywood star". It's doubtful that was in reference to Old Spice spokesman Isaiah Mustafa — an actor who has frequently voiced his desire to play the character — but given how supportive the online comic book geek community has been toward his proposed casting, it's worth noting that he has in fact met with Marvel about playing Luke Cage. Learn more about this, and where Captain America fits into The Avengers, after the break.
A little background on the character: After being sent to prison for a crime he didn't commit, a streetwise youth agrees to secretly undergo an experimental procedure in exchange for parole. Originally intended to generate immunity to all illness, it instead grants him steel-hard skin and superhuman strength, which he uses to become a "hero for hire" known as Luke Cage.
Isaiah Mustafa has conducted an interview with SuperHero Hype discussing his interest in the character, and he acknowledges that he's "already had a meeting with Marvel. I talked to them and I told them that I was a gracious reader of their comics and that I wanted to be Luke Cage. So we'll see where they take it."
When asked if Marvel was actively pursuing the property or he was the one pushing it, Isaiah explained,
They have something in mind, I think, and I definitely want them to see that I'm extremely passionate about it. I'm extremely passionate about being that character. I will do anything to get that role. It strikes me. It's very personal to me. I hold onto it. It's something that I desire more than just about anything that I can think of right now, as far as work goes.
He also went into detail about why he's passionate for the character, so if you need convincing that his motives are sincere, read on.
I think all their [early black] characters were these Blaxploitation characters – these jokey, clownish characters – but now they've really developed the African-American characters. Luke Cage has a lot going on. He's this man, he's got all these powers and abilities and he can use them to save whatever major city, but instead of doing that he uses them to help Harlem. He wants to fix his neighborhood, and that's what's so admirable to me. Instead of leaving and going someplace bigger, he stays right where he needs to be and tries to do the best that they can.
What are the odds that an actor known only for his commercial work would head a comic book movie? At one point Marvel Studios president Kevin Feige was presented with the idea, to which he responded, "Love the Old Spice guy!" So it's not impossible.
In other comic book news, Chris Evans recently sat down with MTV (via Nerd Bastards) and shared some insight into Captain America's place in The Avengers, which may provide some relief to fans worried that the success of Iron Man would result in Tony Stark overshadowing Captain America as the team's leader.
When asked if Evans would like future film installments of Captain America to take place in modern times, here's what he had to say:
We start 'The Avengers' on Monday, and 'The Avengers' is modern world. Even in the first 'Cap' movie, they bring him into the modern world — that does happen. In 'The Avengers,' they start to explore this. He's a fish out of water, a man not in his time, and he's just coming to terms with the way the world is now and how it's changed since the '40s. I think there's certainly a dichotomy — this kind of friction between myself and Tony Stark. They're polar opposites. One guy is flash and spotlight and smooth, and the other guy is selfless and in the shadows and kind of quiet... and they have to get along. They explore that, and it's pretty fun.
Evans also says he has a new costume in The Avengers, which is "awesome" and reflects a lot of progress made from the costume's earlier stages, as will be contrasted by how it appears in Captain America.
You can watch both clips from the interview below.