Russell Crowe Eyeing '77,' Based On A James Ellroy Story, As Starring And Directing Project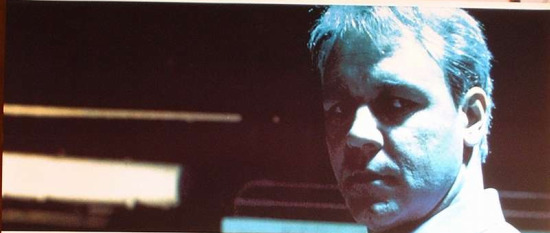 Ten years ago, iconic LA crime novelist James Ellroy was signed with Paramount to write his first original screenplay, called 77. That script was eventually completed by someone else, but it has been kicking around for some time. And now Russell Crowe — who made the leap to leading man status in part thanks to his role in the James Ellroy adaptation L.A. Confidential — is looking to star in the film. He also reportedly wants to make it his directorial debut.
As it stood in 2001, 77 followed ""two events from May 1974: the unsolved murder of Los Angeles police officer Mike Edwards and the nationally televised shootout in South Central Los Angeles between the LAPD and the Symbionese Liberation Army, as they exchanged more than 50,000 rounds of gunfire. The story will unfold through the eyes of a pair of police partners, one black and one white." Sounds like great stuff, very much in the Ellroy wheelhouse. (The story was, I believe, based on the only unsolved murder of a police officer in LA.)
The script that would go into play now was actually written by David Matthews based on that story pitch by James Ellroy. Deadline reports the interest on Russell Crowe's part, but also notes that he has been attached to other projects in the past that never bore fruit. (Not that the blame goes on him, but this isn't his first time attached to direct a film.)
The report is that he's waiting on a new script draft, presumably by David Matthews, before making a decision. Being a huge Ellroy fan I'm looking forward to hearing how the script has turned out; he's an author that can overwhelm with complex plotting, but at the core of his stories is always a set of characters that would make for (potentially) great cinema.  And when the story was designed as a film in the first place? That's perfect. (James Ellroy also wrote the story for Owen Moverman's Rampart, which is in post now.)
Back in 2001 the pitch for 77 was made by Mr. Ellroy to Law & Order producer Dick Wolf, who later called it "one of the best pitches I've ever heard. He draws verbal pictures of the characters that are truly extraordinary, and obviously he can put them down on the page." 77 was around even before then; Ellroy.com notes that there was a different potential development deal for 77 back in 1999.