LOL: Michael Sheen As Bond Villain Blofeld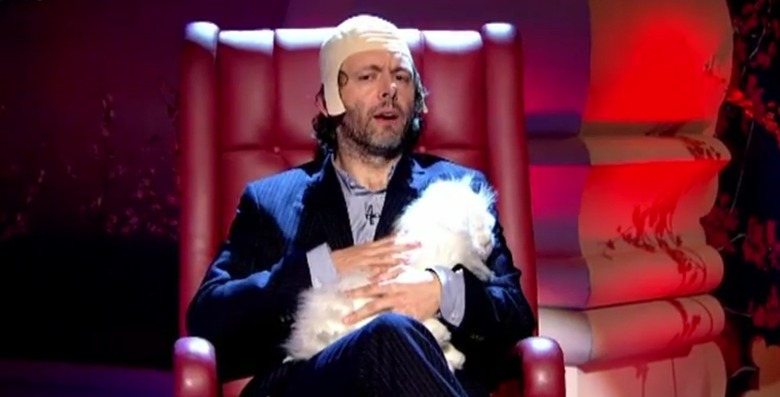 A while back, it was rumored that British actor Michael Sheen was in talks to play Ernst Stavro Blofeld in the next James Bond movie. Blofeld is one of the classic Bond villains, having appeared in three of Ian Fleming's novels and six of the Bond films. His appearance has changed over the years — sometimes he looks like a bald, scarred Donald Pleasance, other times like a handsome, bearded Max von Sydow. But his most recognizable trademark is his fluffy white cat, which he's frequently seen petting in a most sinister way. (If you couldn't guess, Blofeld is the inspiration for the Dr. Evil character from the Austin Powers films.)
Sadly, the Sheen rumor has since been proved to be false. Thanks to an appearance by Sheen on BBC Two's Ruth Jones' Easter Treat, however, we now have an idea of what he might've looked like as Blofeld. Watch the video after the jump.
[via Movieline]
Okay, so that wasn't exactly scary or sinister, but it was incredibly charming. Are we sure it's too late to go back and give Sheen the Blofeld role? Sheen does say "I'd love to be a Bond villain," after all.
Along with Sheen, Kevin Spacey, Ralph Fiennes, Javier Bardem, Anthony Hopkins and Rachel Weisz are among the actors that have been either reported or rumored to be attached to James Bond 23 at some point or another. What we do know is that Daniel Craig will be reprising his role as the iconic British agent, and that Sam Mendes (American Beauty, Revolutionary Road) is confirmed to direct. The film is slated to open November 9, 2012 — so we should be hearing more solid news on the villain roles over the coming months.