'30 Minutes Or Less' Teaser Posters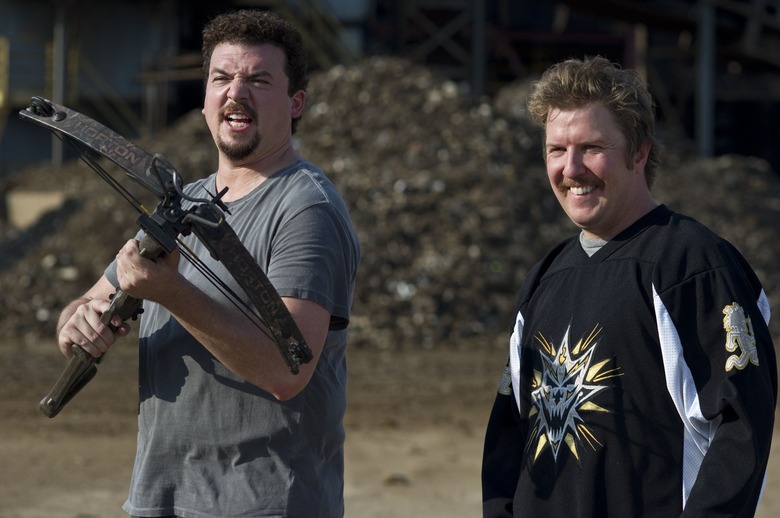 The first footage for this summer's action comedy 30 Minutes Or Less came online Thursday and we're already seeing more and more from the film. Of course the red band trailer gave us a glimpse of the story, characters and humor while some newly released stills showed us the look of the film. Director Ruben Fleischer then tweeted to alert us to the first two teaser posters for the movie.
30 Minutes or Less is loosely based on a true story of a pizza delivery guy (Jesse Eisenberg) who is blackmailed into attempting to rob a bank when two crooks (Danny McBride and Nick Swardson) strap a bomb to his chest. Also in the mix is the pizza guy's friend, played by Aziz Ansari. The film is scheduled for release August 12. Check out the posters after the jump.
Thanks to director Ruben Fleischer for sending us to his site for the posters.
I love that all the main characters are wearing disguises in these posters, almost teasing not only the film, but the cast itself.
In case you missed it yesterday, here's the hilarious first trailer for the movie.
And here's the plot description:
In the action-comedy 30 Minutes or Less, Nick (Jesse Eisenberg) is a small town pizza delivery guy whose mundane life collides with the big plans of two wanna-be criminal masterminds (Danny McBride and Nick Swardson). The volatile duo kidnaps Nick and forces him to rob a bank. With mere hours to pull off the impossible task, Nick enlists the help of his ex-best friend, Chet (Aziz Ansari). As the clock ticks, the two must deal with the police, hired assassins, flamethrowers, and their own tumultuous relationship.