Casting Bits: Emile Hirsch Also Joins Oliver Stone's 'Savages;' Ralph Fiennes In Talks For 'Great Expectations'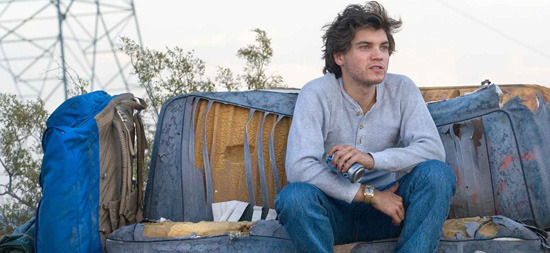 Oliver Stone is quickly locking down the cast for Savages, the adaptation of Don Winslow's novel about two pot dealers (Aaron Johnson and Taylor Kitsch) whose mutual girlfriend (Blake Lively) is kidnapped by a drug cartel (Salma Hayek and Benicio del Toro) in an effort to coerce the guys into bowing to the cartel's will. John Travolta and Uma Thurman also signed on, with that casting announced just hours ago.
Now Emile Hirsch, the great young(ish) actor who seems to do a spate of films then drop off the radar for a while, is in the film playing a role that is yet to be announced. That makes quite a cast so far — while it is difficult to get excited about John Travolta of late, the collection of people is a pretty serious lineup. Is this going to be the movie where Oliver Stone really roars back to life? [Variety]
After the break, while Ralph Fiennes remains a possible addition to the next James Bond film, he's also in line for a part in Mike Newell's new version of Great Expectations.
2012 is the Charles Dickens bicenennial birthday, and so there are a few new Dickens projects coming together. One feature that is being put together is a new version of Great Expectations, with Mike Newell directing from a script by Rowan Joffe (The American). The film already has Helena Bonham Carter in talks to play Miss Havisham, and Jeremy Irvine set to play Pip.
Now Ralph Fiennes is reportedly a possibility for Magwitch, but scheduling could be an issue. He's got to promote his film Coriolanus, and he's set for a stage version of The Tempest that runs from late August to late October. But 'late August' is also the rough beginning date for Great Expectations. Baz Bamigboye reports that one solution would be to shoot the Dickens film during the day, then appear in The Tempest at night, but that seems like a hell of a workload.
Meanwhile, Mr. Fiennes is still in talks for Bond 23, but there is no new word on progress there.