Superhero Bits: Marvel At Disneyland? Joseph Gordon-Levitt's 'The Dark Knight Rises' Comic Character Background, Natalie Portman NOT In 'The Avengers'; Bryan Singer Talks 'X-Men: First Class'; 'Green Lantern' Photos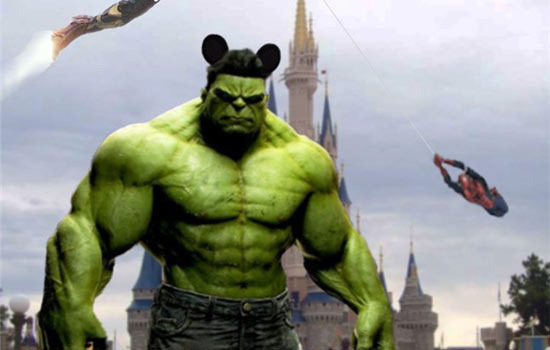 Disneyland is home to many celebrated attractions: pirates, haunted mansions, Indiana Jones, Michael Jackson in 3D, kid Jedi training, and so much more. Now it's time to add mutants, webslinging and Norse gods to the mix. It's still just talk at this stage, but with Marvel Studios now being a subsidiary of Disney, Marvel president Kevin Feige is excited about what sort of possibilities are available should they expand their presence to theme park rides and the like.
Check out what Feige had to say, and a whole slew of other superhero-related movie news, after the break.
It's the biggest dream of all. We get to tap into this spectacular team that is better than anyone else on the planet at bringing fantasy to life, not only on the big screen but in the real world.
The notion of walking into a theme park and going into Asgard or the X-Mansion—Disney does this better than anyone. That is why I've gone to Disney parks multiple times every year for my whole life. It's that next step in fully immersive storytelling, whether it's a dark ride, a stunt show, or a thrill ride. The options are endless when it comes to how Imagineers can turn our characters, our adventures, and our films into amazing experiences.
The X-Mansion and Asgard? To quote Liz Lemmon, "I want to go to there."
The full interview can be read when the magazine, the quarterly publication of D23: The Official Disney Fan Club, hits stands May 3. [IGN]
After a lot of speculation surrounding what role he would be playing in The Dark Knight Rises, Joseph Gordon-Levitt has since been confirmed as John Blake, "a Gotham City beat cop assigned to special duty under the command of Commissioner Gordon". This was underwhelming for some, as John Blake didn't register as a character of note from Batman lore, and it seemed probable that Christopher Nolan had invented the character himself — much like Rachel Dawes had been.
As it turns out though, there has indeed been a John Blake in the Batman comics, as can be seen in this early introduction of the character in the comic strip by Bob Kane and Jack Schiff.
Click the image below to view the comic.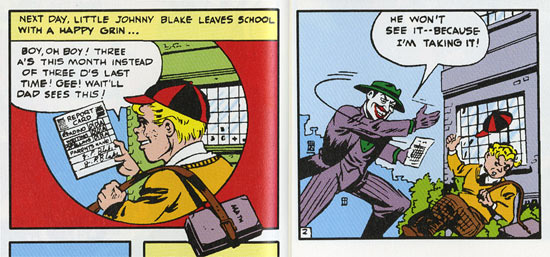 Joker, you fiend! Unless the character's name is just a coincidence, it looks like little Johnny Blake's traumatic childhood experience served as motivation for him to become a cop, a profession that would enable him to put a stop to dastardly deeds like report card theft. Or will it turn out that his exposure to crime at a young age was his undoing, with a third-act reveal that John Blake is really Hugo Strange, disguised as Black Mask, pretending to be Dick Grayson — all of whom are actually The Joker? Judge at your own discretion. [Bleeding Cool]
IGN has a lengthy interview with X-Men: First Class producer Bryan Singer that covers just about all bases you could want covered in regards to the film's relation to both the comics and the previous films. I've included a few highlights below, but be sure to check out IGN for the full interview.
On what inspired the decision to do an origin story:
Oh something I came up with just based on... When I made the first two X-Men films I was conscious of figuring out how to play the relationship between Magneto and Xavier and I was always very conscious of what their past must have been. What their friendship was like. So that back-story was always playing in my head whenever I was discussing scenes with Ian McKellen and Patrick Stewart. So this was a chance to finally go back and explore the history that was always bouncing around in my mind when I was making those other movies.
On how the new characters were chosen:
You first freak out because you assume that the good ones have already been picked. Then you just pick up the books and start reviewing and researching. I felt like I was back in the late '90s again, going through all the character histories and biographies and the comic books and graphic novels, and trying not to violate the tableaux but at the same time trying to have mutants that service different aspects of your story. Where their powers move the story forward as opposed to just being there to be cool.
On how the film fits in with the rest of the series:
I think the chronology works – there are some liberties, but for the most part, it makes sense. The characters make sense. Which is why Beast and Mystique were the only two I could bring back because you don't really know how old they are.
Other topics discussed include the Hellfire Club, the historical backdrop of the film, the meaning of the film's title, the greatness of Kevin Bacon, and plenty more. [IGN]
Contrary to reports by numerous other film sites that Natalie Portman had been confirmed to return for The Avengers, she has now proven those claims false in a recent interview.
I'm not in The Avengers, but I'm signed up for the next two (Thor) sequels if they are made. I think these inter-related Marvel movies are great fun. The Avengers will be like Ocean's Eleven with the superhero all-stars!
Another day, another casting rumor settled. Huzzah. [Today Online via Comic Book Movie]
Warner Bros has released three otherworldly new photos for Green Lantern, one of which has him utilizing his limitless godly powers to materialize a gatling gun. Seriously, a gatling gun? Way to think outside the box, Hal. [via We Are Movie Geeks]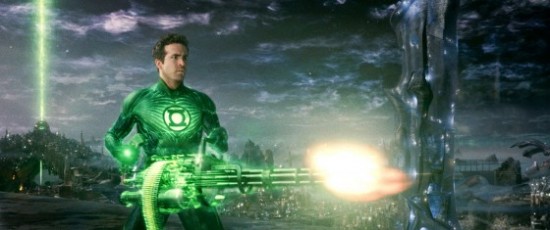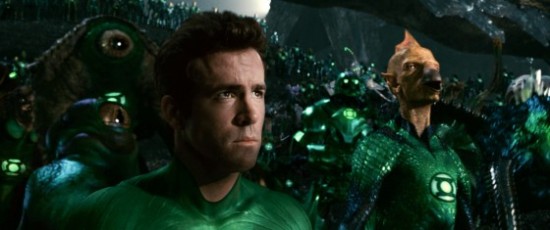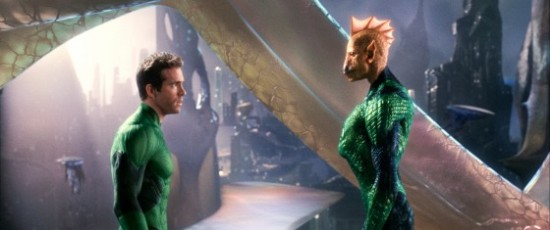 Lastly, The Film Stage has this photo of a bulked-up, bald-headed Tom Hardy (Bronson, Inception) on the set of The Dark Knight Rises.
[No photo]
Slap on test tubes and a leotard, and he may just be the perfect Bane. What do you guys think?
[Header Image Source: Worth1000]