Kate Beckinsale Offered A Lead Role In 'Total Recall'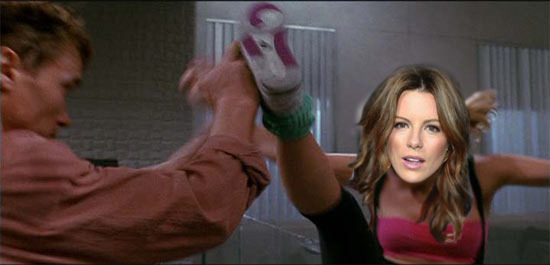 In news that should surprise no one familiar with the actress's personal background, Kate Beckinsale has been offered a central role in Live Free or Die Hard director Len Wiseman's remake/update of Total Recall. She's allegedly up for the part of Lori, the wife to Colin Farrell's leading man Quaid. In Paul Verhoeven's 1990 telling of the story (also based on the Philip K. Dick short story We Can Remember It For You Wholesale) Lori was played by Sharon Stone, with Melina — the more predominant of the female leads, whom Quaid meets along his journey — played by Rachel Ticotin. (Breaking Bad's Bryan Cranston, meanwhile, has been cast as the villain.)
Beckinsale wasn't listed among those reading for the two female leads, but that hasn't stopped her getting the offer, according to Deadline. And why would it? Wiseman and Beckinsale are married, after all, and it's not as though they've made any sort of effort to keep their personal and work lives separate. (Beckinsale is the lead in the Underworld series, the first two of which Wiseman directed, and the most recent two of which he produced/is producing.)
Previously mentioned as reading for Lori were Kate Bosworth and Diane Kruger, while Eva Mendes, Paula Patton, and Eva Green have been reading for Melina. And more recently, Jessica Biel was mentioned as a possibility for either part. Looks like Bosworth and Kruger may be out of luck, but word now has it that Mendes and Rosario Dawson "are the serious contenders" for Melina.
Beckinsale has yet to accept the offer, but surely it's more of a formality than anything. She's busy shooting Underworld 4: New Dawn, of which Wiseman of course has an intimate involvement, so if there were any scheduling conflicts between that and Recall, wouldn't he be the first to take note of it? The same can be said for her tentative participation in the upcoming project The Trials of Kate McCullough, but for slightly other reasons. (Duh. They're boning each other.)
Hopefully serving some basis for what we can expect from Beckinsale should she accept the part — and again, it would be curious if she didn't — here's what Sharon Stone looked like in the original.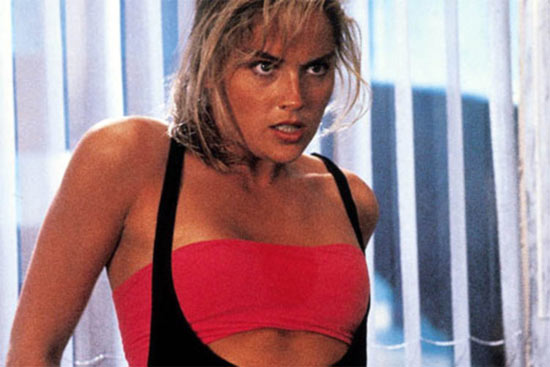 After careful consideration, I support this casting decision.