Robert Zemeckis Could Next Direct 'Flight'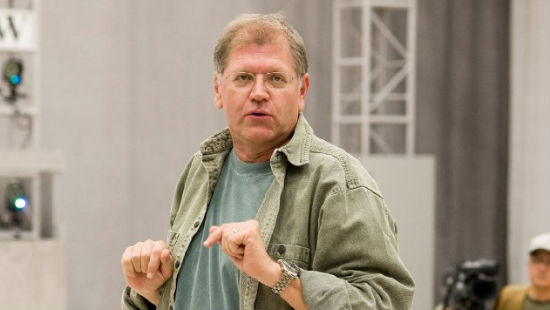 In an era where every successful filmmaker has not only one, but a handful of films, on their plate, it's hard to imaging that someone as storied and successful as Robert Zemeckis is looking for work. However, after his motion capture Beatles film Yellow Submarine was canceled, it put the Oscar-winning director of Forrest Gump, Back to the Future and Used Cars back on the market. He's been developing a sequel to Who Framed Roger Rabbit, was courted for a Wizard of Oz film and recently signed on to produce How To Survive a Gnome Attack but, according to Deadline, his next directorial gig could be a film called Flight. Written by John Gatins (Real Steel, Hard Ball) the film seems to be loosly inspired by the tale of Sully Sullenberger, in which a commerical airline pilot avoids a terrible disaster and becomes a hero. In this film though, the pilot must hide the fact that he was under the influence. Denzel Washington is circling the lead role. Read more after the break.
Deadline broke the news of this possible project and The Hollywood Reporter dropped the Denzel news. According to their sources, Paramount – who owns the rights to Gatins' script – is courting Zemeckis hard knowing that he's currently a free agent. And while they wouldn't report on it if there wasn't a chance it could happen, the problems with Zemeckis directing this film are numerous. First of all, it's another plane disaster movie, just like his last live action film Cast Away. Second of all, he's expensive, and Paramount doesn't see Flight as a big budget film.
Gatnis had long been attached to direct the film himself, but the oppurtunity to get a guy like Zemeckis doesn't happen too often.
Here's how the Deadline story describes Flight:
The fictional tale revolves around a commercial airline pilot named Whip Whitaker. When his plane malfunctions and a crash seems imminent, he saves the day with some heroic flying and manages to land the plane with minimal casualties. He's instantly hailed as a hero, but as an investigation into the cause of the crash unfolds, it becomes clear that he was flying under the influence of drugs and alcohol. The film is the pilot's journey as he is encouraged to wear a hero label he thinks he doesn't deserve, while the pilot's union and airline try to keep the facts under cover because of the high stakes involved.
I'm a huge fan of Zemeckis's. I even like Beowulf, but not so much A Christmas Carol. While this certainly sounds like a green light worthy script, I'd much rather see him direct something a bit bigger. What do you all think?