'Wonder Woman' Gets A Rewrite, And Possibly Lynda Carter?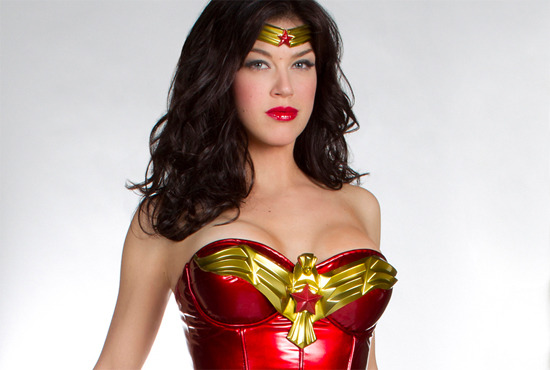 In just a few short months David E. Kelley's new Wonder Woman show for NBC has turned fans from optimistic onlookers to prognosticators of doom. Casting Adrianne Palicki seemed like a good move, and may well have been, but the first draft of the costume was terrible, and revisions only partially rectified things. But the costume isn't the only thing getting revisions.
More problematic is word that the pilot script kicks off a series that features "a reinvention of the iconic D.C. comic in which Wonder Woman — aka Diana Prince — is a vigilante crime fighter in L.A. but also a successful corporate executive and a modern woman trying to balance all of the elements of her extraordinary life." That reportedly involves three separate identities, a good deal of crying and an Ally McBeal tone that doesn't sound very Wonder Woman at all. The latest round of info is that script revisions were done late in the process, as the pilot was shooting, to make the show a bit more tough. Will it help?
io9 has the new script, and the short version is that there's more violence — lifting bad guys by their throats, gouging eyes, high kicks and more. This is the sort of thing reported in the newer pages:
At one point, she confronts a pair of security guards, whom the script calls Frick and Frack. They tell her she can't go up to the roof of a hospital, and she says, "I'm Wonder Woman. How do you think this ends?" And then she lifts one of them into the air by the throat and the other one by the chest, until they admit they're goons working for her nemesis, Veronica Cale.
Better, I suppose, than a self-pitying Diana Prince that drowns her sorrows in ice cream before curling up in a fetal ball. (Which is what was reportedly in early drafts.) There is now a much more intense and decisive big battle, and clearer character motivation for Wonder Woman. Those are good things. But those who've thought that David E. Kelley isn't the guy to bring Wonder Woman back may still have reason to doubt.
And then there's Lynda Carter. As the new Wonder Woman has rapidly gone through development, casting and started shooting, many have wondered if the original and still iconic TV Wonder Woman would make an appearance. Speaking to The Talk (via MTV), Lynda Carter said this week,
I've talked to David E. Kelley, who's a brilliant writer, a number of times and we're hoping to plan something. But I cannot reveal. . ." she said, not wanting to give too much away. "David E. Kelley is full of surprises, so you never know what's going to happen.