'Restrepo' Co-Director Tim Hetherington Killed In Libya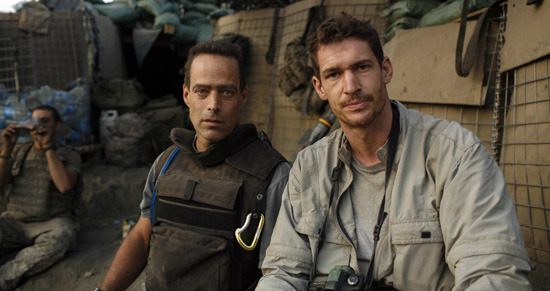 Tragic news, as Tim Hetherington (pictured at right, above) who was nominated for an Oscar for the excellent war documentary Restrepo with co-director Sebastian Junger, has reportedly been killed while documenting the rebel conflict in Libya. He and fellow photographer Chris Hondros were both killed in a mortar attack.
Much of the news about the killing of both men has come from photographer Andre Liohn's Facebook page. He was reportedly at the hospital with the two photographers, and posted updates about their deaths. But that Facebook thread is no longer available. Meanwhile, NYT social media editor Lexi Mainland has posted that the AP and APF have confirmed the killings. But I haven't been able to find/confirm those reports.
The British Journal of Photography reprints part of the Facebook thread:
Sad news Tim Hetherington died in Misrata now when covering the front line. Chris Hondros is in a serious status. Michel Brown and Guy are wounded but fine.
Business Insider also has a screenshot of that Facebook post.
The last public communication from Tim Hetherington was this tweet from yesterday,
In besieged Libyan city of Misrata. Indiscriminate shelling by Qaddafi forces. No sign of NATO.
UPDATE: ABC News now reports the deaths of both men.UPDATE #2: The New York Times now reports that Chris Hondros is alive, but in extremely critical condition with a severe brain injury.
By all accounts Tim Hetherington and Chris Hondros were both brave and very dedicated photographers; the ABC piece praises Mr. Hetherington's work while embedded in Afghanistan. Chris Hondros has been nominated for the Pulitzer Prize and has been covering war and conflict zones for over a decade, shooting in Kosovo, Angola, Sierra Leone, Afghanistan, Kashmir, the West Bank, Iraq, and Liberia. Here are some of his photos filed this week.