Mondo's 'Pan's Labyrinth' Poster By Aaron Horkey; Part Of Alamo Drafthouse's 'Big Screen Classics' Series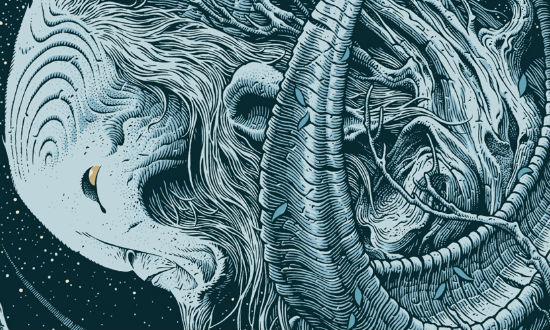 When Mondo announced that they'd be doing Director's Series posters, beginning with Guillermo del Toro, the one title on the list that really stood out was Pan's Labyrinth. What would a limited edition poster for this classic film look like? Finally, we have the answer. /Film is proud to exclusively present your first official look at Aaron Horkey's Pan's Labyrinth poster, presented as part of Mondo's Director's Series and the Alamo Drafthouse's Big Screen Classics series. The print made its debut at screening of Pan's Tuesday night in Austin and all copies allocated for that show completely sold out. And though the film screens again tonight, all remaining posters will go on sale Friday April 22. Check out the huge images of both the 37.5"X 15" regular and variant prints after the break.
Again, both versions of the poster are 37.5"X 15". The regular edition of 420 will cost $75 and the variant edition of 125 is $125. Each print is printed with "2 split fountains, 3 metallics and a clear acrylic varnish coat on each version." The regular edition is on French Whitewash and the variant is on French Grout Grey.
Click on each image for the gorgeous, long, hi-res version of each print.
These will sell out incredibly fast so be sure to follow @MondoNews on Twitter for the announcement, which will happen at some time on Friday April 22.
You can see other posters in the Guillermo del Toro Director's Series by clicking on these links: Hellboy 2 and Blade 2 and the first Hellboy. Still to come are Cronos and The Devil's Backbone.
Aaron Horkey, who did the above print, also did prints for True Grit, part of Dracula and Dead Man. Check those out by clicking on each link.
Where do you think this print ranks with the previous del Toro and Horkey prints? Are you going to try and get one?