'Star Tours: The Adventures Continue' Details Revealed In Official Press Release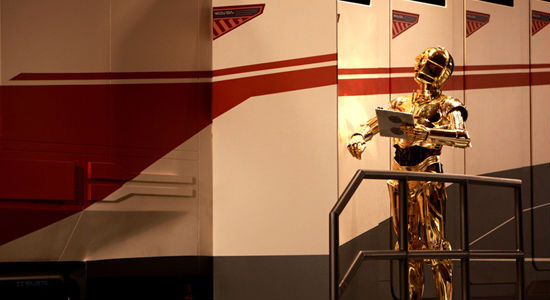 With just one month to go before the unveiling of the new Star Tours ride at Disneyland and Disney World, Disney has put out a new press release that reveals a few more tidbits about the revamped attraction. For those who have no idea what a Star Tours is, it's a popular ride that takes guests on a tour through the Star Wars universe, via a simulation. Or it was, until Disney shut it down last year to work on this new version.
We were already aware that the new attraction, officially called Star Tours: The Adventure Continues would feature 3D effects, variable storylines, some new characters and classic locations, and that C-3PO would be the one flying the ship.
Now Disney has offered up new details on what C-3PO (voiced by Anthony Daniels), R2-D2, droid pilot Ace, and spokesbot Aly San San (voiced by Allison Janney) will be doing during the ride — including an explanation as to how C-3PO ends up in the pilot's seat. Read on after the jump.
Entering the attraction queue area, Star Tours guests walk into a bustling spaceport. The famed Star Wars droid duo, C-3PO and R2-D2, greet them as the Starspeeder 1000 is prepped for service. Anthony Daniels, the voice of C-3PO and the only actor to appear in every theatrical chapter of the Star Wars Saga, reprises his role as the golden protocol droid. Daniels worked with Walt Disney Imagineering to record new dialogue for the attraction. Guests also are introduced to AC-38, a hotshot droid pilot known simply as "Ace," and Aly San San (voiced by actress Allison Janney), the "spokesbot" for the spaceport.
After winding through the spaceport, guests board the Starspeeder 1000 spacecraft and prepare for Star Tours Flight #1401. Through a series of mishaps, however, C-3PO finds himself in the pilot's seat instead of Ace, and it's up to him and R2-D2 to navigate their passengers through the galaxy. However, the tyrannical Empire is out to stop the Starspeeder at all costs. C-3PO and R2-D2 take the controls and try to outwit and outrun the Imperial forces and a galactic bounty hunter hired to pursue the spaceship and its passengers.
Star Tours: The Adventure Continues will open June 3 at Disneyland and May 20 at Walt Disney World.
Discuss: Are you willing to wait in long-ass lines to be among the first to try out the new ride, or are you going to bide your time and wait until crowds have died down a bit next year? I'm definitely in the latter camp.