Infographic: The Critical Decline Of The Top 10 Highest Grossing Films Since 1950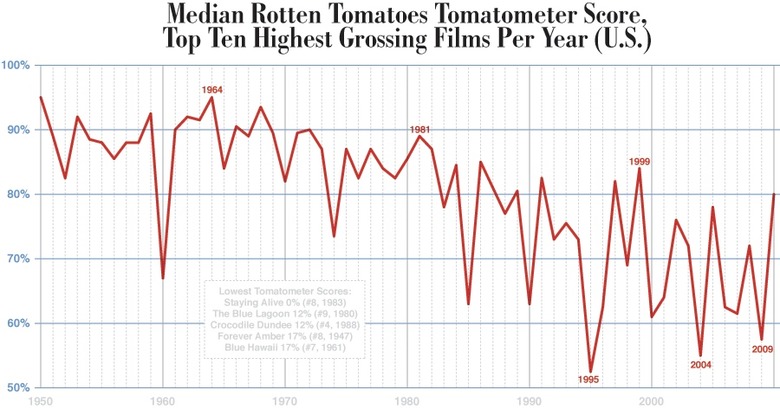 Very Small Array has created an interesting graph showing the Rotten Tomatoes' tomatometer score of the top ten highest grossing films per year, tracked over the last 60 years. And as you might expect, with exception of 2010, 1999, and 1997, we've been on a downward spiral. It use to be more common that the highest grossing films of the year would also have critical acclaim (Raiders of the Lost Ark, Jaws...etc), but the last 20 years the split between box office dollars and quality have diverged.
2010 was an unusually strong year for the top ten, which included the following fresh-rated films: Toy Story 3, Harry Potter and the Deathly Hallows Part 1, Inception, How to Train Your Dragon, Despicable Me, Iron Man 2 and Tangled. That's 7 out of 10, with the only rotten eggs being The Twilight Saga: Eclipse, Alice in Wonderland and Shrek Forever After.