The Natural Evolution Of Cinema Or The Beginning Of The End? DirecTV's Premium Video On Demand Details Announced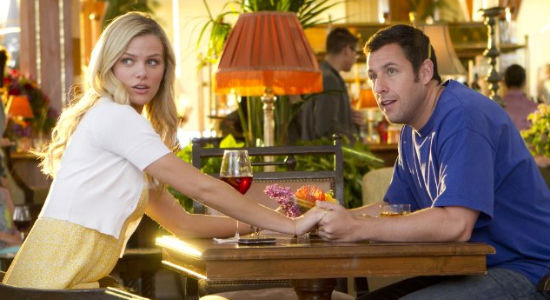 DirecTV finally announced the official details of their much discussed premium on demand service called Home Premiere. Launching April 21 with Sony's Just Go With It, the service will give DirecTV subscribers with HD-DVR's the ability to watch a movie two months after it opens in theaters for the cost of $29.99. Rentals last for 48 hours. However, DirecTV will only offer one premium movie at a time. So it'll start with Just Go With It, then extend to other films like The Adjustment Bureau, Cedar Rapids and Hall Pass. So far Sony, Universal, Warner Brothers and Fox are all on board with the program.
Home Premiere has been a real thorn in the side of the National Association of Theater Owners who believe it could deliver a huge blow to their business. And while they won't be boycotting blockbuster movies in protest, they'll probably stop running trailers or hanging posters for films that will eventually appear on the service. No sense in promoting things people can see at home.
That's only a small part of it though. What's really at stake here is the theatrical experience as a whole. Is DirecTV's new program the natural evolution of cinema or the beginning of the end? Read more after the break.
Now that the details of this service are out, one can imagine the theater owners are breathing a short term sigh of relief. The fact that Home Premiere is only going to offer one movie at a time, on the surface, seems like a good thing. Plus it's only available on HD-DVR's, accounting for an even smaller fraction of DirecTV's already limited subscriber base. (According to Deadline, 6 million of DirectTV's 19.2 million subscribers have HD-DVR's).
With those limitations, it seems like Home Premiere would be hard pressed to have much of an immediate impact on the theaters. On the contrary. In an article on The Wrap, one Warner Brothers official believes this service could skim up to 5% of the movie audience. According to their math, that 5%, while negligible to the studios themselves, could end up causing half of the movie theaters in the country to close. And that's with the service as is. What's to stop DirecTV from adding more and more titles to the service in the coming years? Or making it available to people who don't have the correct box?
When the first On Demand movie came out, no one thought, "This is as far as this will go." They probably surmised that, eventually, it would get bigger and more comprehensive. It always does. These type of technological advances never go backwards. They never devolve. They're always evolving and moving forward. The only thing in the way of exponentially expanding this service would be if the entire thing was a huge bomb. Maybe Home Premiere is Betamax. But if that's the case, then VHS is surely just around the corner. The idea will simply be tweaked and retried until something sticks. It's hard to argue that what On Demand started, Home Premiere is continuing. It's the next big step in a our ability to – eventually – watch brand new movies in their home the day they come out. That's where this is all going and why, underneath it all, the theaters are so scared.
As a movie fan, I'm scared too. I've come to terms with the fact that the home viewing experiencing is slowly supplanting the theatrical one for most film goers, but most of us aren't "most film goers." We're rabid movie fans who fawn over every little project. And because of that I adore the theatrical experience. I adore its energy and excitement. If movie theaters closed, it would be a huge blow. I want to be able to laugh, cry and get pumped with a group of people; watch larger than life movies in a larger than life setting. That's what it's all about. It's not about being a shut in, it's about going out and finding that shared emotional experience. If movies become strictly a home medium, it'll not only close the theaters, it'll make filmmakers rethink their projects and give studios less of an excuse to be creative. It's a slippery slope and, just maybe, Home Premiere is the first step in the devolution of theatrical movies.
Or maybe I'm overreacting.
What are your feelings on this on demand service? Is $30 a good price to pay for a movie that's been out for two months? If you have to wait another two months for DVD, would you just do that? And do you agree that this could be the first step in a much bigger evil?