This Week In DVD & Blu-Ray: The King's Speech, Rabbit Hole, Somewhere, Gulliver's Travels, The Way Back, And More
We may receive a commission on purchases made from links.
This Week in DVD & Blu-ray is a column that compiles all the latest info regarding new DVD and Blu-ray releases, sales, and exclusive deals from stores including Target, Best Buy and Fry's.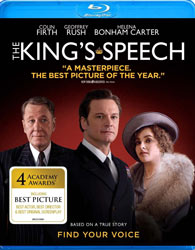 THE KING'S SPEECH
Approaching a story of monumental scope with charm and intimacy, The King's Speech is a finely crafted crowd-pleaser that plays fast and loose with history but does so to convey a decidedly more human tale of finding one's inner strength in order to be heard. There's not a single surprising moment in the whole thing, as every element of the limply conventional narrative has been depicted in film on countless occasions — the movie of the week disorder, the reluctant leader, the unorthodox therapist/psychiatrist, etc. — but rarely have these humdrum plot mechanics been handled with such authority and wit. The acting is superb across the board, with Colin Firth and Geoffrey Rush marvelously portraying the "unexpected" friendship that blossoms between royalty and commoner. Their command of the screen brings a much welcome vitality to the film's rather safe theatrics. Tom Hooper, meanwhile, refines his visually sumptuous period drama by presenting the material as accessibly as possible, employing any number of off-kilter camera angles, behind-the-back steadicam shots and fish-eye lenses to find that delicate balance between vulnerable and frigidly dignified. I wouldn't say I was wowed by the film as many others seem to have been — and I'm a tad resentful that it won Best Picture over far superior efforts such as The Social Network, Black Swan and 127 Hours — but if you're looking for a nice film to watch with the family, it's a pretty good bet that The King's Speech will comfortably satisfy that need.
Available on Blu-ray? Yes.Notable Extras: DVD & Blu-ray – Audio Commentary, Making Of Featurette, Deleted Scenes.
BEST DVD PRICE
Target
Best Buy
Fry's
$16.99
$15.99
N/A
Amazon – $14.99
BEST BLU-RAY PRICE
Target
Best Buy
Fry's
$22.99
$19.99
$17.99
Amazon – $19.99
EXCLUSIVE DEAL:What? Free $5 Target GiftCard when you buy The King's Speech on Blu-ray.Where? Target.
RABBIT HOLE
Highly perceptive and profoundly affecting, Rabbit Hole offers keen insight into human nature and the effects of tragedy — mentally, spiritually and materially. It is nuanced to the tiniest of character intricacies, greatly rewarding attentive viewers willing to take the journey. This may be stating the obvious, but it's not a journey to be taken lightly. Rest assured though, Rabbit Hole is impressively restrained, and never uses pain as a crutch. The film is too earnest to let its tragic subject matter drown the picture in unadulterated misery. In every respect, the film feels appreciably unsentimental and real, even finding a number of genuine moments of humor amongst the suffocating sorrow. There are the expected shouting matches and tear-drenched lamentations, yes, but they're the culmination of thoughtfully and fully realized human drama, not easy melodrama. It's a phenomenal movie, written, directed and acted with confidence and care. I'm not sure how eager I am to re-experience it any time soon, but I'm extremely grateful to have been able to experience it at all.
Available on Blu-ray? Yes.Notable Extras: DVD & Blu-ray – Audio Commentary with the Director, Writer, and Director of Photography, and Deleted Scenes.
BEST DVD PRICE
Target
Best Buy
Fry's
$17.99
N/A
N/A
Amazon – $14.99
BLU-RAY PRICE
Amazon – $19.99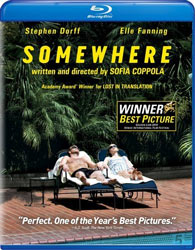 SOMEWHERE
Somewhere opens with a full two minutes of its protagonist aimlessly driving around in circles, mirroring the meandering cyclicality of his life. Symbolism! And lest you fail to pick up on it, Sofia Coppola ensures that the message is hammered home over the course of 100 staggeringly languid minutes of absolutely nothing of interest happening — repetitively, and slowly. Unlike most, I don't have a problem sympathizing with the plight of the overly privileged, but that's largely dependent on that plight being explored with some level of depth or precision. Somewhere offers no such thing. It's low-key to a fault — nice to look at, but with little going on under the surface. "That's the point," one might argue. "Bullshit," I argue back. If fame and fortune has reduced action megastar Johnny Marco to a hollow vessel of indifference, it's his relationship with his daughter that's meant to be the source of his redemption. Alas, that relationship is subjected to the same superficial treatment as every other aspect of Marco's meaningless (yet frequently alluring) existence, rendering the film a self-indulgent exercise in mood and nothing more. Here's Stephen Dorff glumly sucking a cigarette. Here's him playing Guitar Hero with Elle Fanning. Here's him slogging blank-faced through various publicity events. Ugh, enough already. I'm sorry, Ms. Coppola, a beautifully naturalistic arthouse aesthetic can only take a film so far. At a certain point, we need something substantive to care about. Otherwise, what the fuck makes this a story worth telling?
Available on Blu-ray? Yes.Notable Extras: DVD & Blu-ray – A Making Somewhere featurette.
DVD PRICE
Amazon – $19.99
BLU-RAY PRICE
Amazon – $26.99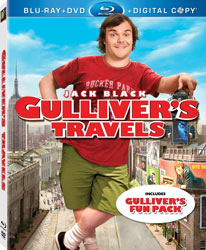 GULLIVER'S TRAVELS
Only half as execrable as some might be expecting, Gulliver's Travels at least has the good sense to play itself with a knowing and good natured silliness that makes it almost tolerable. Expecting the film to do any sort of justice to Jonathan Swift's 18th century satire is of course hopeless — Political and religious themes? Lose 'em. Pissing scene? Keep it! — but if you're looking for a few almost-clever Star Wars gags and are content with Jack Black once again tapping into his inherent Jack Black-ness, it's inoffensive enough that parents can probably make it to the end without feeling like they're suffering through it. But that sure as hell shouldn't be taken as a recommendation to seek it out for yourself. Oh, and fair warning: The final song and dance number is one of the most hideous things ever committed to celluloid. Remember the Fudderwacken dance from Alice in Wonderland? Yeah, it's worse than that. And so much longer.
Available on Blu-ray? Yes.Notable Extras: DVD & Blu-ray – Gag Reel, Deleted Scenes, I Don't Know...with Lemuel Gulliver, Little and Large, Jack Black Thinks Big, Down Time, Gulliver's Foosball Challenge, War Song Dance, Fox Movie Channel Presents: In Character Jack Black, Fox Movie Channel Presents: In Character Jason Segel, Life After Film School Rob Letterman of Gulliver's Travels, and World Premiere.
BEST DVD PRICE
Target
Best Buy
Fry's
$12
$15.99
N/A
Amazon – $16.99
BEST BLU-RAY PRICE
Target
Best Buy
Fry's
$22.99
$22.99
N/A
Amazon – $24.99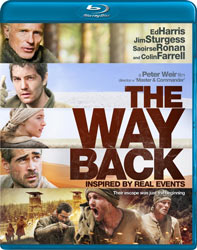 THE WAY BACK
Marking Peter Weir's first film in seven years (since the terrific Master and Commander), The Way Back stars Jim Sturgess, Ed Harris, Colin Farrell, Saoirse Ronan and Mark Strong in an epic man vs. nature adventure tale wherein a group of prison escapees traverse 4000 miles to freedom. While not without its detractors, the film has been predominately a hit with critics, with both sides acknowledging its exhaustive and episodic nature. Here's the trailer.
Available on Blu-ray? Yes.Notable Extras: DVD & Blu-ray – Behind the Scenes Featurette.
DVD PRICE
Amazon – $14.99
BLU-RAY PRICE
Amazon – $15.99
Other noteworthy DVD (and Blu-ray) releases this week...
Ip Man 2: Legend of the Grandmaster [DVD / Blu-ray] – Glee: Encore [DVD / Blu-ray] – Kes (Criterion Collection) [DVD / Blu-ray]
Noteworthy Blu-ray-specific releases this week...Mortal Kombat – Sweetie (Criterion Collection)

NOTES: Some deals may vary by store. Some deals may be in-store only. All deals are for DVDs unless otherwise noted.

$9.99 – Blu-ray sale: Serenity, American Gangster, Mammia Mia, It's Complicated, Marley & Me$9.99 – The Walking Dead (Season 1), Entourage (Season 6), Archer (Season 1), Family Guy (Vol. 8),Weeds (Season 5)$14.99 – How I Met Your Mother (Season 5), It's Always Sunny in Philadelphia (Season 5), The Office (Season 6), House (Season 6), Burn Notice (Season 3), Justified (Season 1), Castle (Season 2), Mad Men (Season 3), Dexter (Season 4), The Big Bang Theory (Season 3)$19.99 – Glee (Season 1), Modern Family (Season 1), 24 (Season 8), Lost (Season 6), True Blood (Season 2)$5.99 – Red, Salt, Prince of Persia, From Paris with Love, The Last Song$6.99 – Megamind, How to Train Your Dragon, Harry Potter and the Half-Blood Prince, Shrek Forever After, Coraline, Diary of a Wimpy Kid, Ramona and Beezus

2 for $12 – Blu-ray sale: Hitch, The Legend of Zorro, Roxanne, Running With Scissors, S.W.A.T., Vertical Limit, XXX$9.99 – Blu-ray sale: Harry Potter (Year 1 – 6)