New Images: Pedro Almodovar's 'The Skin I Live In'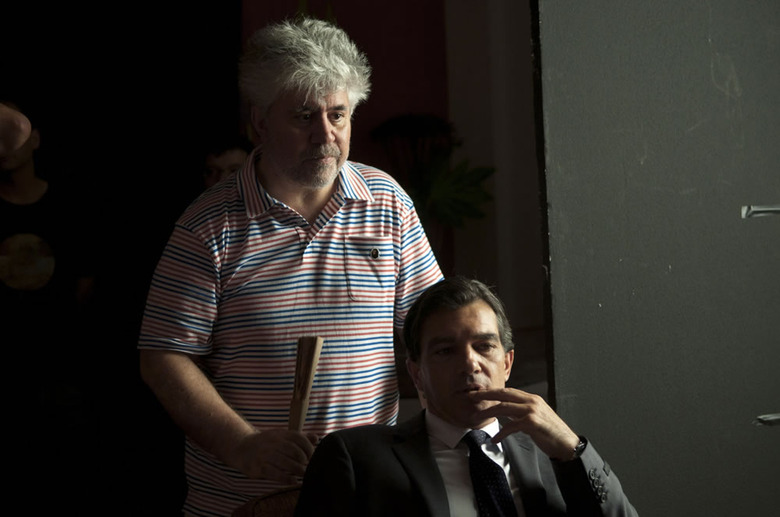 Pedro Almodovar's new film, The Skin I Live In, has been picked up by Sony Classics and will play in competition at Cannes next month. The movie is definitely one of my most anticipated of the year, in part because it seems to be an excursion into new territory for the director. An adaptation of Thierry Jonque's novel Tarantula, it is in part about the revenge a plastic surgeon (played by Antonio Banderas) seeks against the man who raped his daughter. But the surgeon is also sort of a psycho whose home life with his wife is, to say the very least,a bit deviant, and not quite to her taste. Intense stuff, it seems.
We've seen some fake posters for the film, a few early stills and a real poster. Now there are a few new legit stills, which you can check out below.
The first shot in this gallery — a NSFW shot of Antonio Banderas at work — speaks for itself. So far I've got no idea what's going on, however, with the image featuring the guy in the low-rent tiger outfit. But the one of Elena Anaya reading on the bed while Antonio Banderas stands in the doorway behind her would seem to represent the couple's weird domestic setup. Those are the first three stills in the gallery below; the other four have been floating around for a bit, but I included them for the hell of it.
Keep an eye on the film's official site for more info, and hopefully a trailer in the near future.
[Abandomoviez via Bleeding Cool]