Chris Morgan Hired To Write 'Fast And Furious 6' As Part Of Production Deal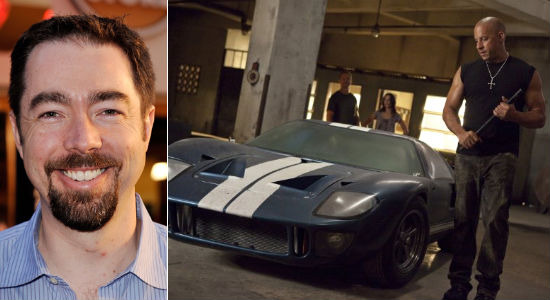 Fast Five is still over a week from being released but its writer has not only been hired to write the sixth installment, he's been given a brand new production deal. Chris Morgan, who wrote Wanted, The Fast and the Furious: Tokyo Drift, Fast and Furious and Fast Five in addition to the currently in production 47 Ronin starring Keanu Reeves, just signed a first-look-deal with Universal that'll keep him writing and developing ideas at the studio for at least two years.
One of the first projects he'll tackle is Fast and Furious 6, yet another sequel in the successful crime and car franchise. He's also been rumored to be developing a Terminator movie with his Fast and Furious director Justin Lin as well as the cartoon adaptation Bakugan. After the jump, read some quotes from Morgan about the types of films he hopes to make.
The Hollywood Reporter exclusively broke the news of this deal and spoke to Morgan about it:
I don't want to be the guy who gets a vanity production deal and does nothing. I want to be the guy who goes out there and busts my ass and fixes broken stories and finds material to bring back — quite frankly, as a reward to the studio that has worked with me for so long. We have a very effective partnership, and we want to get some big movies off the ground.
What kind of movies is he talking about?
I grew up on Raiders, Lethal Weapon, Die Hard. Those are in my wheel house. Those are the movies I want to find, I want to help make. They're genre movies but heroic ones, ones that have a hyper-real sense to them. Summer movies.
Morgan was also previously attached to a Gears of War movie so, if you add that to Bakugan and Terminator, he's certainly dealing with big movies. Let's just hope that in addition to dealing with proven franchises, he also develops some new stories.
Are you tired of the Fast and Furious movies? Are you surprised they're already writing a sixth one?