'Top Gun' Returns To Theaters 2 Nights Only: April 30 & May 2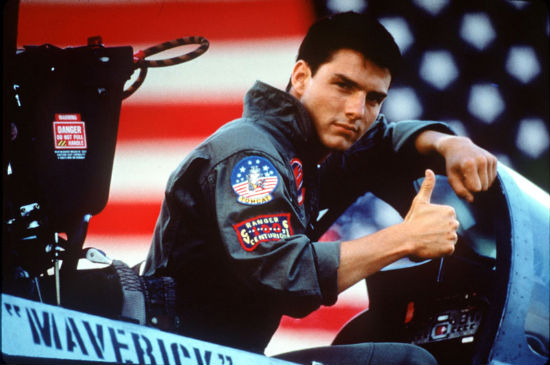 Twenty-five years ago, I have the distinct memory of opening my local newspaper, turning to the movie page, and pointing to the words "Top Gun." Even at six years old, the power of producers Don Simpson and Jerry Bruckheimer was hard to deny and my grandfather took me to see Maverick, Goose, Iceman, Slider and the rest in the soon-to-be-classic fighter pilot action film. Since then, I – like some of us – have probably seen the movie 100 times. It's now at a point where certain line deliveries or off camera dialogue really make me laugh and Quentin Tarantino's dissection of the film as a homosexual metaphor has crystallized. Basically, Top Gun has become a hilariously awesome microcosm of cold war blockbuster filmmaking with some really weird subtext.
Even so, until last night I hadn't seen the film on the big screen since that first screening 25 years ago. I must say, seeing Tony Scott's film projected on the big screen was fantastic. Watching the stunt work, camera moves and editing of the flight sequences on such a grand scale was radically different from watching the movie on TNT. Top Gun was, and always will be, meant to be seen on the big screen.
Now, everyone has a chance to share that experience and wallow in nostalgia. To celebrate its 25th anniversary, AMC is hosting two screening of the Tom Cruise classic on April 30 and May 2. Find out where and more info after the break.
Showtimes for the Top Gun 25th Anniversary screenings are Saturday, April 30 at 12:30pm and Monday, May 2 at 7:00pm at AMC Theaters across the United States. For a full list of theaters, visit www.amctheatres.com/topgun.
They've also released a special re-release trailer, which you can watch here:
And, if you haven't seen it, you've got to watch this Quentin Tarantino monologue about the homosexual subtext in the film:
Having just watched the film again recently, I can say Tarantino's examples just scratch the surface, but also aren't entirely accurate. For example he gives the wrong final line of dialogue – it's "you can be my wingman" not "you can ride my tail." He also fails to bolster his point with a myriad of other moments such as the weird way Slider has his arm around Iceman, the awkward post shower scenes, and lines of dialogue like "I want some butts" or "You must have carnal knowledge, of a lady this time." None of that takes away from the pure adrenaline rush of a classic action movie like this, but, it's obviously there if you want to look for it.
Do you have fond memories of watching Top Gun growing up? What are some of your favorite moments and will you head out to AMC to check it out later this month?