'Bellflower' Teaser Trailer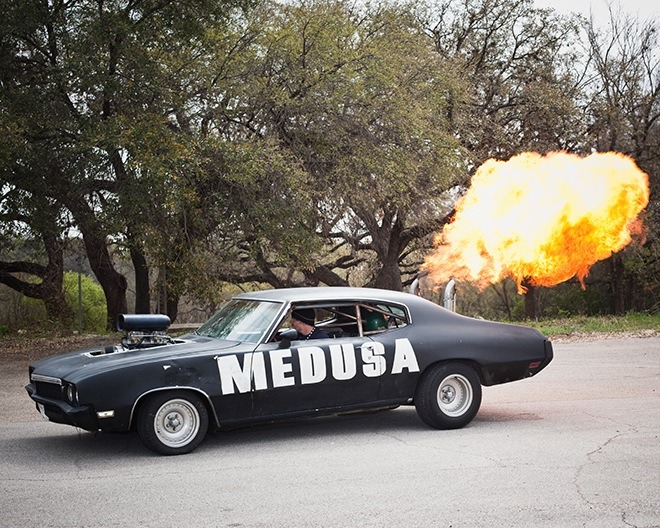 Bellflower got a lot of press at Sundance and SXSW this year. It is a very low-budget romance with a sort of apocalyptic bent, and with a badass muscle car as a mascot. Now there is a teaser for the film, but according to some reports it might actually give you the wrong idea of what to expect. Still, the minute of footage that follows after the break has a lot of attitude, so check it out anyway.
I'm going to defer to Peter's Sundance review of the film, where he said that the movie written/directed/co-starring/co-produced/co-edited by Evan Glodell "follows two friends who build flamethrowers and death cars in preparation for the possible global apocalypse. One of them meets a charismatic young woman (played by the promising newcomer Jessie Wiseman) who takes him on adventures he never dreamed. But her spontaneous destructive nature might lead to a apocalypse of its own."
The thing is, my understanding of the movie is that it is more a relationship film than anything else. (Peter compared it to (500) Days of Summer.)  And while this teaser offers a long, loving look at the car that is the film's mascot, I'm told the car is barely in the movie. So don't watch this expecting quite the Max Max experience that the teaser and pullquotes promise.
An apocalyptic love story for the Mad Max generation, Evan Glodell's impressive feature debut paints a classic, yet urgently contemporary, tale of the destructive power of love.
Bellflower follows two friends who spend their time building flamethrowers and other weapons in the hope that a global apocalypse will occur and clear the runway for their imaginary gang, Mother Medusa, to reign supreme. While waiting for the destruction to commence, one of them meets a charismatic young woman and falls in love—hard. Quickly integrating into a new group of friends, the pair set off on a journey of betrayal, love, hate, and extreme violence more devastating than any of their apocalyptic fantasies. With highly stylized photography and editing, Bellflower is an exhilarating, character-driven joyride. Fueling this narrative with fantastic imagery and extraordinary performances, writer/director/actor Glodell elevates the ordinary experiences of friendship and romance into the stuff of legend.