Ben Affleck To Star In And Direct 'Argo,' Won't Do 'The Great Gatsby'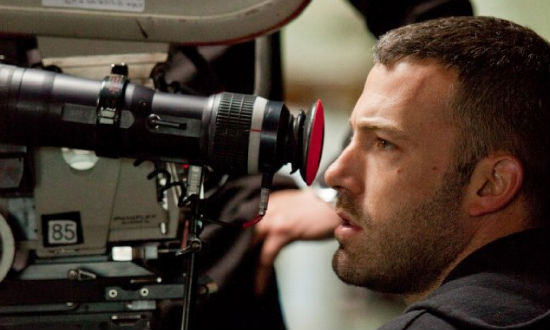 After the unexpected success of The Town, Ben Affleck found himself in the unique position of being an extremely hot director. Since then, he's been circling or offered several different directorial projects including American Bullshit, Replay and Tales From The Gangster Squad but had yet to settle on his follow-up. That's now changed. As was rumored back in February, Affleck's next directorial effort will be Argo, a spy film based on the true story of how the CIA rescued American citizens from Tehran, Iran by pretending to make a sci-fi movie. He'll both direct and reportedly star in the film, produced by George Clooney and Grant Heslov from a script by Chris Terrio. Because he's committing to this, Affleck won't be able to star in Baz Luhrman's The Great Gatsby. Read more after the break.
The Hollywood Reporter broke the news of Affleck being in talks a few months back, but the Argo confirmation is from The Tracking Board with a little nudge from Deadline. The Tracking Board says Affleck will star in the film while everyone else says he's just directing. He's also still developing additional projects such as the true life baseball story, The Trade, with Matt Damon.Argo is based on a 2007 article that ran in Wired magazine called "How the CIA Used a Fake Sci-Fi Flick to Rescue Americans from Tehran" by Joshuah Bearman. The true story itself happened in 1979 and here's how it was described by its author:
The story is a CIA rescue mission during the Iran Hostage Crisis, when six American embassy staff escaped the compound and were on the lam in Tehran for months — until the CIA rescued them by creating a fake Hollywood production company and pretended to be in Iran location scouting for a big-budget sci-fi epic. I swear, it's all true. The CIA even got an office for their fake production company at Sunset/Gower studios, had a script and concept art, and took out ads in Variety. There are many more strange digressions in detail, but I'll let you find out about them in the story.
You can read the story itself right here.
In our initial article on this film (which has a bunch of addition details), Russ gushed about the possibilities of these pieces falling into place. The story, the filmmaker, the period, etc. I tend to agree that it sounds incredibly rich and interesting but am a tad bit worried that audiences might be slightly off put by the period feel of it. It seems to be like Soderbergh's The Informant, which was great, but failed to connect with general audiences.
After directing two successful films, do you buy Affleck as a talented auteur? Should he stick behind the camera?