Thomas Jane Joins Sylvester Stallone In 'Headshot;' Sly Still Not Directing 'The Expendables 2'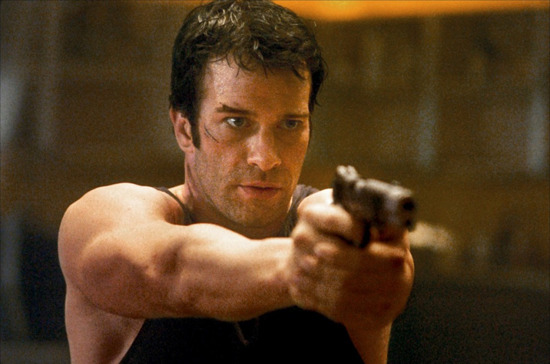 Let's tackle these in reverse order from the headline. Last week rumors emerged that Sylvester Stallone would direct The Expendables 2 after all. (Several months back it had been announced that he would not write or direct.) The rumor showed up via a BoxOfficeMojo tweet, and was reportedly sourced from LionsGate, which distributed the first film. I contacted the studio, which said that nothing was confirmed.
Now Deadline indirectly but definitively reports a statement from Sly that he "wants it known that despite reports to the contrary, he will not be directing the sequel to The Expendables." So that remains that. The script is in, and now we'll wait to see who is tapped to direct, what cast members will return, and who'll be added. Maybe the experience of directing Sylvester Stallone in Headshot will go so well that Walter Hill will do The Expandables sequel as well? More info on Headshot, which Thomas Jane has just joined, after the break.
JoBlo had Thomas Jane on a podcast recently, and the actor dropped the news that he would appear in Headshot along Sylvester Stallone. He said that Walter Hill is rewriting the Alessandro Camon script, and that,
[Stallone is] a hitman, I'm a cop, and we're just opposite in every f*cking way, and we need each other to get this job done. And of course I'm like, 'As soon as this job's over, I'm going to take you to jail, you know, you're a killer.'
Guess that answers the question of who'll fill out the other half of the synopsis we've reported a couple times as the film has come together:
[Stallone teams]with a young NYPD detective in a high-stakes investigation that leads from the dingy back alleys of New Orleans all the way to the power corridors of Washington, D.C. The unlikely duo, brought together by two vicious murders, take on all who stand in their way, and are willing to sacrifice everything to exact revenge.
With Walter Hill rewriting and directing these two guys in Headshot I'm starting to really look forward to the film. Sadly, I can't see any way he'd be able to jump onto The Expendables 2 afterward, as that film is already scheduled for an August 17 2012 release.