First Footage From Michael Mann's HBO Horse-Racing Show 'Luck'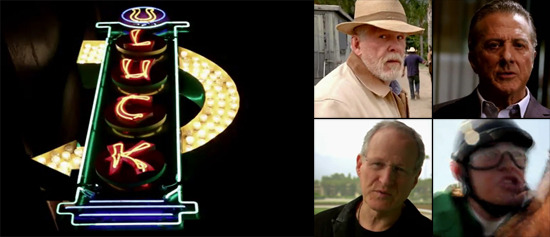 I never thought I'd be this jazzed to see a horse-racing drama, but 'jazzed' only begins to capture how I feel after watching the first behind the scenes look at Luck, the HBO show from Michael Mann and David Milch that stars Dustin Hoffman and Nick Nolte. This video is a relatively brief featurette on the making of the show, but it has enough tiny clips of the actors in action that I think you'll walk away from it wanting to see a lot more.
More than anything else, what excites me here is Dustin Hoffman. He's playing a mob figure/e-con/gambler of some kind, and we haven't seen him looking quite this fierce in a long time. Nick Nolte looks great, and the brief look at Richard Kind makes it seem that he's playing a very different character than we're used to. We'll have to wait to get more than tiny glimpses of the rest of the cast, which includes Dennis Farina as Dustin Hoffman's associate, John Ortiz as a horse trainer, and Joan Allen, Ian Hart, Kevin Dunn, Kerry Condon, Tom Payne and Patrick J. Adams.
I also love how the music, editing and some of the close-up bits of b-roll in this piece make it resemble the opening of Deadwood in what is probably a very deliberate way. And if Dustin Hoffman turns out to be Luck's very own Al Swearingen? That would be thrilling.