Jason Statham In Talks For Taylor Hackford's 'Parker'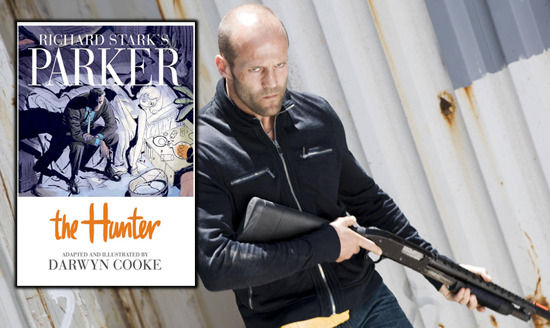 What does Jason Statham have in common with Lee Marvin, Chow Yun Fat and Mel Gibson? Soon he could be the fourth actor to play a screen version of Parker, the principled thief created by Donald Westlake (under the alias Richard Stark) in a series of pulp novels. The previous three films (Point Blank, Full Contact and Payback) have all been pretty loose translations of the novel The Hunter, which introduced Parker in 1962 and kicked off a series that now includes twenty-four books. For this new version, simply called Parker, John J. McLaughlin (Black Swan) scripted based on The Hunter, and Taylor Hackford is slated to direct.
Taylor Hackford told Variety,
I don't want to get stuck in a genre... What I like the most about this piece of material is that you can take a genre piece like this and turn it into a great movie.
He's got proof of this because John Boorman has already taken a Parker genre piece and turned it into a great movie: Point Blank, starring Lee Marvin. The character's name may have been changed (to Walker) but the basic plot is the same, and Point Blank turns the genre exercise into something a lot more unusual, largely through very inventive, sometimes even dazzling filmmaking. Point Blank is both gritty and larger than life. Individual scenes are sometimes almost naturalistic, but the editing rhythms and use of color lend the film a phantasmagoric tone that turns it into something more than a simple noir. It's a wild, beautiful film that, for better or worse, will be the benchmark against which Parker is judged.
(The plot is that Parker is betrayed by his wife and partner in crime, shot and left for dead. Not quite dead, however, he goes after his betrayers and tries to recover his missing money.)
We don't know how faithful this adaptation will be, but given that the name of the film is Parker, I would guess that means Taylor Hackford and the producers intent to turn out a more literal adaptation of the novel than we've seen so far. I don't really see Jason Statham putting forth the sort of character that would match the version of Parker that is on the page, but if this film is jumping off from a version that is more like Mel Gibson's Payback portrayal than anything else, I guess it could work.
The book cover in the header image is, as you can probably tell, from Darwyn Cooke's great graphic novel adaptation of The Hunter that was released a couple years back. Like Point Blank, it is very much worth checking out. Here's the trailer for Point Blank; get the DVD if you can, because it has a great commentary from Steven Soderbergh, who liberally borrowed from the film when making The Limey.