'Scream 4' - What Did You Think?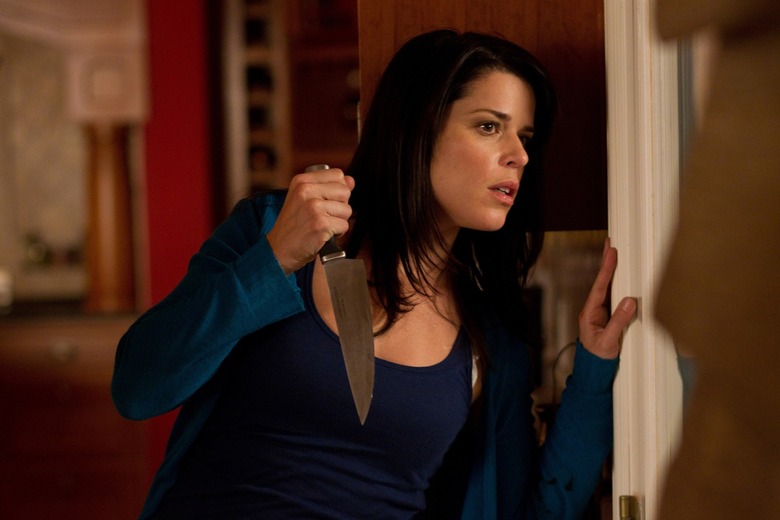 There are a lot of questions surrounding the release of Wes Craven's Scream 4 this weekend. Can Craven still pull off a solid horror thriller? (Obviously the man is a legend, but 2010's My Soul To Take wasn't exactly his most impressive work.) Even if Craven succeeds as a director, can he reinvigorate a moribund franchise? And can said franchise, which itself was a shot-in-the-arm to the horror genre during its initial release in 1996, still maintain its relevance in the midst of increasing cynicism in today's horror cinema?
Be sure to check out Germain's review of the film, and share your thoughts in the comments below. And assume SPOILERS lie after the jump and in the comments.
According to Vince Mancini over at Film Drunk, the answer to all my questions above is definitively "NO."
It is incredible to me that a film asking us to recognize and analyze the story tropes of schlocky horror films, and populated by characters constantly comparing their own lives to a movie, can simultaneously ask its audience not to question the fact that in a town that experiences more than 20 knife murders in less than a week, the only police we ever see are four comically-inept Sheriffs. [...] Or that an 100-pound high school girl could beat a full-grown policeman to death with a bed pan. Or that horror-film-obsessed kids would plan a horror-movie marathon at "an abandoned farm" (which is apparently still full of hay bales) in the midst of a murder spree by a killer copycatting horror films. Was that last sentence exhausting to read? Now you know what it was like to sit through the movie. This is a film that asks you to question everything, then assumes you'll accept anything. And it's so tumescent with self-regard that you can't even enjoy its utter ineptitude.
The Scream franchise has always been about being self-referential and self-aware. It has always attempted to comment on horror tropes even as it tries to deploy them in a way that makes them fresh. That being said, I think if you temper your expectations for Scream 4, you'll be pleasantly surprised. What Craven and screenwriter Kevin Williamson have created is a retread of the original, only with some added elements that reflect today's media-obsessed culture. Of course, it wouldn't be a Scream film if it didn't heavily pat itself on the back for invoking words like "webcams" "streaming" "Twitter" and "Facebook."
I will say this about the new film, though: I did not predict that ending. Is that because the film managed to do something new and interesting with its final act twist, or because the twist was so ridiculous and absurd that no one could have ever predicted it? Your answer to that question will likely reflect your enjoyment of the film overall.
So what did you think of Scream 4? And were you fans of the original "trilogy"?