New Image And Clip From 'This Must Be The Place' Show Sean Penn In Full Robert Smith Mode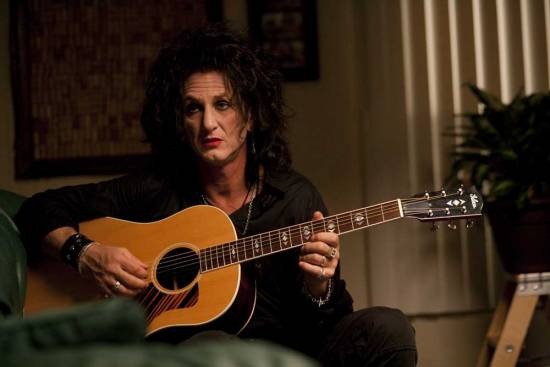 So far, I've been more than a little mystified over images from This Must Be the Place, in which Sean Penn plays an aging musician who looks very much like The Cure's Robert Smith. The big hair, lipstick and eyeliner aren't doing Sean Penn many favors, and with each image — that's the first official one, above — I've wondered about the fate of the film.
But Paolo Sorrentino's film does have serious aspirations, as that Robert Smith-like character is trying to track down the one-time Nazi who tortured his father. Now there is a montage of footage from the film, set to one of the song's by the main character's fictional band, and the stuff looks pretty great. Suddenly I can't wait to see This Must Be the Place. Check out the clip after the break.
This is the story:
Cheyenne (Sean Penn) is a wealthy former rock star, now bored and jaded in his retirement in Dublin. He travels to New York to reconcile with his estranged father during his final hours, only to arrive too late. After learning the true extent of his father's humiliation in Auschwitz at the hands of former SS Officer Aloise Lange, Cheyenne begins a journey across America to track down Lange, who is now hiding out in the US.
David Byrne and Will Oldham had a hand in the soundtrack to the film — I think it's Will Oldham singing the song that we hear in this clip, but I'm not 100% sure.
[Footage removed at the producers' request.]
This Must Be the Place also stars Frances McDormand, Judd Hirsch, Harry Dean Stanton, Shea Whigham, and Kerry Condon. It will premiere in Cannes next month, where it is part of the competition slate. No idea if it might be Palm d'Or material, but I could see Sean Penn being up for an acting award. Hard to say, but I definitely want to see more. [via The Playlist]