Filming Begins On Jack Kerouac's 'Big Sur' Starring Josh Lucas & Kate Bosworth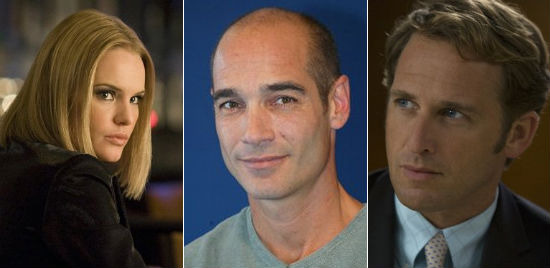 With an adaptation of Jack Kerouac's On The Road currently awaiting release, someone is already stepping up to adapt another of the beat author's famous works. Michael Polish, the director of Twin Falls Idaho, Northfork and The Astronaut Farmer, has written and begun directing Big Sur, a film based on the Kerouac novel that tells the story of his emotional troubles after gaining fame and fortune. It'll star Jean-Marc Barr (Dogville) as Kerouac, Josh Lucas as Neal Cassady and Kate Bosworth as their female companion Billie. Big Sur will also feature turns from Anthony Edwards, Rahda Mitchell, Balthazar Getty and Henry Thomas. Read more after the break.
Deadline exclusively reported that the film has begun shooting, produced by the newly founded 3311 Productions.
Published in 1962, just 7 years before he died, Big Sur was one of Kerouac's final novels. Unlike most of his other autobiographical works, it portrays himself – under the pseudonym Jack Duluoz – as a famous author. It chronicles several trips to a cabin in the northern California town and how he deals with emotional demons through viscerally described drug and alcohol infused madness.
While the book employs the same free-form, trademark style of On the Road, Big Sur is decidedly darker. Here's the plot description from the IMDB:
Sudden fame and a self-destructive lifestyle were taking a toll on Jack Kerouac's mind and body following the unparalleled success of the groundbreaking novel, On The Road. Once the handsome literary maverick and hero of the Beat Generation, Kerouac now sees only a vestige of his former self, ravaged by alcohol and drugs, aged beyond his years and tormented by self-doubt. Questioning his talent, his faith, and his mortality, Kerouac leaves New York for California, on a quest for redemption at an isolated, fog-banked cabin in the primitive landscape of the Big Sur woods. What ensues in those fateful 3 weeks of August, 1960, is both terrifying and revelatory. While Kerouac is able to find beauty and elation in his surroundings, the dichotomy of his psyche renders him unable to face his demons alone. He sets off on a visceral collision course of paranoia, sex, delirium tremors, misery and madness.
Polish's projects have, in general, been small and personal and one gets the sense this will be more of the same. What are your thoughts on this project and the cast?