Michael C. Hall And Vera Farmiga To Star In 'Dexter' Creator James Manos, Jr.'s 'Love, Scotch And Death'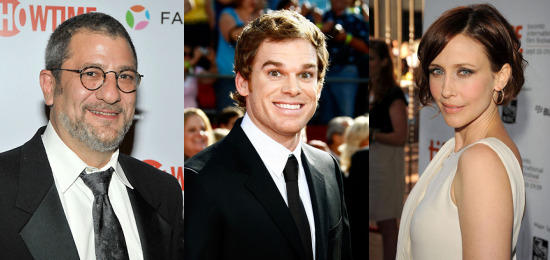 Dexter creator James Manos, Jr. will be making his first stab (ha) at feature film directing with Love, Scotch and Death, from a screenplay he wrote about a character based on himself. And to play his cinematic stand-in, he's picked a familiar face: everyone's favorite serial killer, Dexter Morgan himself. Or rather, Michael C. Hall, the actor who plays Dexter Morgan on the Showtime series. Hall will be joined by Vera Farmiga, who's also signed on to the project. Read more after the jump.
After returning from a stressful vacation, he discovers his parents have died of natural causes together in bed, which forces him to navigate his way past an unsympathetic funeral director, his bewildered children and manic wife, an eccentric priest and some over-sexed neighbors. There is also an arrest for assault and the death of his wife's beloved dog.
I'm not entirely sold on the plot, which sounds a little like it could be a third-rate Ben Stiller movie. But there's reason for optimism: Manos is an Emmy-winning screenwriter (for the Sopranos episode "College") and a seasoned television producer, and he and Hall are obviously capable of doing good work together.
The new project could be a great opportunity for Hall, an excellent actor who's done mostly television work, to break into some new types of roles. Aside from the fact that Hall will be dealing yet again with death, the character and tone of Love, Scotch and Death seem very different from his work on Dexter and Six Feet Under. And it's always nice to see Farmiga, who's reliably good in everything she does.
Production for Love, Scotch and Death will begin in November, after the sixth season of Dexter wraps.