This Week In DVD & Blu-Ray: Harry Potter And The Deathly Hallows Part 1, Country Strong, White Material (Criterion Collection), Heartless, And More
We may receive a commission on purchases made from links.
This Week in DVD & Blu-ray is a column that compiles all the latest info regarding new DVD and Blu-ray releases, sales, and exclusive deals from stores including Target, Best Buy and Fry's.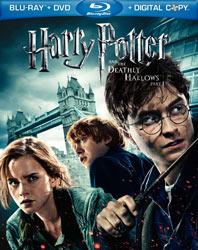 HARRY POTTER AND THE DEATHLY HALLOWS, PART 1(Releases on Friday, April 15 — Blu-ray available as single-disc and Blu-ray+DVD+digital copy)
I'm still not convinced that the final installment of the Harry Potter franchise needed to be separated into two films, but perhaps that's a discussion better reserved for Part 2. Is it fair to judge this as a standalone film, or should it be taken as only half of a whole (which in itself is only one seventh of an even greater whole)? Director David Yates seems to want it both ways, while also attempting to appease both hardcore fans of the books and more casual viewers of the movies. The effort is admirably ambitious, though not always successful, often servicing fans at the cost of narrative flow. I'll hold off on casting any judgments on how the film fits into the grander story at play — something that could very easily make or break the film in retrospect — but as a continuation of what's essentially evolved into a serialized big screen mini-series, this entry is as problematic as it is utterly compelling. As a devoted fan of the films, it's fascinating to see how these characters (and actors) have grown and matured, and Yates does a tremendous job portraying the toll that these inherited responsibilities have taken on their relationships. Where the film falters is finding a satisfying way to properly set up and condense subplots from the book, leading to many awkward moments where characters and MacGuffins appear at random. I'm also terribly conflicted about the ending, because as much as I recognize the need to offer some sort of emotional climax, it doesn't register as an organic progression, and is treated with such gravitas that it inadvertently undercuts a far more significant occurrence at the end of The Half-Blood Prince. Criticisms aside, I have to respect Yates for endeavoring a near impossible task and not losing sight of the characters and their journey amidst the commotion. There lies the strength of the film, and that's exactly the way it should be.
Available on Blu-ray? Yes.Notable Extras: Blu-ray – Includes a copy of the DVD and a digital copy of the film, as well as a sneak peek of an opening scene from the final film, a Maximum Movie Mode, Focus Points ("The Last Days of Privet Drive", "Hagrid's Motorbike", "Amazing (or) Magical Tents!", "Deatheaters attack Cafe", "Creating Dobby and Kreacher", "Godric's Hollow", "The Harry And Nagini Battle", "The Frozen Lake", "The Return of Griphook"), featurettes ("On the Green with Rupert, Tom, Oliver and James", "The Seven Harry's", "Dan, Rupert, and Emma's Running Competition", "Behind The Soundtrack"), and additional scenes.
BEST DVD PRICE
Target
Best Buy
Fry's
$14.99
$13.99
N/A
Amazon – $14.99
BEST BLU-RAY PRICE*
Target
Best Buy
Fry's
$22.99
$22.99
$22.99
Amazon – $22.99
*Does not include single disc edition, which costs $16.99 at Best Buy and Amazon.
EXCLUSIVE DEAL:What? Blu-ray includes bonus disc featuring 65 minutes of additional content.Where? Best Buy.EXCLUSIVE DEAL:What? Blu-ray with 24-page book: A Look at the Making of The Tale of the Three Brothers ($27.99).Where? Best Buy.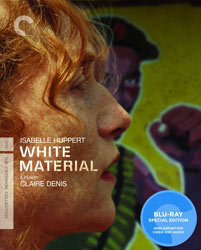 WHITE MATERIAL (CRITERION COLLECTION)
[Also available on Netflix Watch Instantly]
White Material is a powerful and appropriately confounding viewing experience, but one that leaves the viewer wondering what it's trying to say — if it is indeed trying to say anything at all. It's a tale of a white woman whose steadfast loyalty to an unnamed, war-torn African country is at odds with its native occupants desire to take it back from people like her. Shot with an artful eye and a lingering sense of portent, we're left to witness the collapse of colonialism as a family fails to pay heed to the chaos around them. It's devastating to watch, and equally as frustrating. The paths that these characters choose for themselves are handled with great directorial conviction, although there's little to invest in emotionally. Should there be? Their actions defy all reason, so maybe not. This is also what makes it so difficult to decipher what point the film is trying to make. It's unrelenting in its gradual depiction of the 'what', but doesn't seem concerned with the 'why'. Then again, maybe its pointlessness is exactly the point. Maybe the 'why' is beyond comprehension. Maybe we're just hopeless and mad, and we will be to the very end. Scary thought. Scary movie.
Available on Blu-ray? Yes.Notable Extras: DVD & Blu-ray – Interviews with Denis and actors Isabelle Huppert and Isaach de Bankolé, a short documentary by Denis on the film's premiere at the Écrans Noirs Film Festival 2010 in Cameroon, a deleted scene, a new and improved English subtitle translation, PLUS: A booklet featuring a new essay by film writer Amy Taubin.
DVD PRICE
Amazon – $19.99
BLU-RAY PRICE
Amazon – $27.99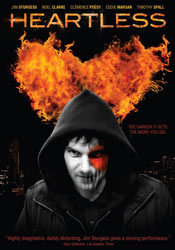 HEARTLESS
[Also available on Netflix Watch Instantly]
The legend of Faust's deal with the devil gets an intriguing update in Heartless, a frequently clumsy yet weirdly engaging mixture of supernatural horror, socio-realism, romance and morality play tragedy. As silly and sentimental as it sometimes is, there's a palpable thrill in seeing which outlandish direction the story will take next. Jim Sturgess' moping about grows a little tiresome, but regular appearances by otherworldly characters liven up the material with an amusing undercurrent of grim comedy. Love it or hate it, it's at least a dozen times more imaginative than most of what's being released in theaters nowadays.
Available on Blu-ray? No.Notable Extras: None.
DVD PRICE
Amazon – $18.99

COUNTRY STRONG
If there was any chance of me sitting through Country Strong after learning it was destroyed by critics, that possibility was quashed upon viewing "singing sensation and country music's newest star" Gwyneth Paltrow perform one of its songs at the Oscars. Never again.
Available on Blu-ray? Yes.Notable Extras: DVD & Blu-ray – The Country Strong Soundtrack, a extended performance of "Shake That Thing", the original ending, deleted scenes, a "Country Strong" music video with Gwyneth Paltrow, and "A Little Bit Stronger" music video by Sara Evans. The Blu-ray release will also include featurettes ("Friends In High Places: The Cast of Country Strong", "Putting the Words in Their Mouths: The Songwriters", "A Little Bit Country: The Costumes").
BEST DVD PRICE
Target
Best Buy
Fry's
$16.99
$16.99
N/A
Amazon – $15.99
BEST BLU-RAY PRICE
Target
Best Buy
Fry's
$19.99
$19.99
$19.99
Amazon – $19.99
Other noteworthy DVD (and Blu-ray) releases this week...
Marwencol [DVD / Blu-ray] – Farewell [DVD / Blu-ray] – Summer in Genoa
Noteworthy Blu-ray-specific releases this week...The Incredibles – Cars – Le Cercle Rouge (Criterion Collection)

NOTES: Some deals may vary by store. Some deals may be in-store only. All deals are for DVDs unless otherwise noted.

Exclusive: Get any previous Harry Potter movie (Blu-ray+DVD+digital copy) for only $12.99 each.$9.99 – Eastbound and Down (Season 1), Scrubs (Season 9)$14.99 – Psych (Season 3 – 4)$19.99 – Supernatural (Season 5)$24.99 – Sons of Anarchy (Season 2)$3.99 – Edward Scissorhands, I Robot, Grandma's Boy, The Shawshank Redemption

Exclusive: Get any previous Harry Potter movie on Blu-ray for only $9.99 each.Exclusive: Save $10 when you buy both The Incredibles and Cars on Blu-ray. Each also includes a free ticket to Cars 2.$9.99 – Blu-ray sale: Cloudy With a Chance of Meatballs, Knowing$4.99 – Moon, Wall Street (2-Disc Edition), Sorority Row

$9.99 – Blu-ray sale: A.I.: Artificial Intelligence, Rain Man$12.99 – Blu-ray sale: Armored, Casino Royale: 3-Disc Collector's Edition, Cloudy With a Chance of Meatballs, Crouching Tiger Hidden Dragon, The Da Vinci Code, Death at a Funeral, Dr. Strangelove, Final Fantasy VII: Advent Children, Halloween II (2009), The Imaginarum of Doctor Parnassus, Leon: The Professional, Michael Jackson's This Is It, Moon, The Natural, The Patriot, Step Brothers, Surf's Up, Year One