Sequel Bits: Jon Chu Talks 'GI Joe 2,' Justin Lin Talks 'Terminator 5'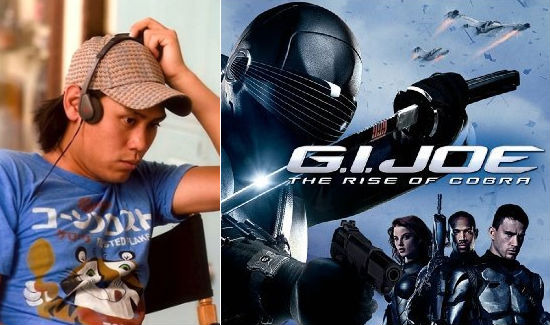 One sequel has a release date and a script, the other is still just conceptual, but both franchises are fan favorites. Jon Chu, the director of Step Up 3D and Justin Bieber: Never Say Never is set to direct G.I. Joe 2 and once again geeked out in the press about his love of the franchise, hopefully inspiring fans everywhere who might be scared that the guy who directed Step Up 2 The Streets is at the helm of their beloved franchise. He's conducted multiple interviews dropping a ton of information about what's he's got up his sleeve.
Then there's Justin Lin, whose Fast Five is mere weeks away. He's been rumored to be interested in directing a new Terminator movie, referred to as Terminator 5 and, in a recent interview, confirmed this and said that he's even talked to Arnold Schwarzenegger about it. Read quotes from both directors after the jump.
Let's start with the film we are guaranteed to see first: G.I. Joe 2. Jon Chu was talking to The Deadbolt to promote his television show LXG: The League of Extraordinary Dancers, and was asked about his plans and thoughts on G.I. Joe 2:
I grew up playing with G.I. Joes and watching Joe and reading the comics of Joe. It means so much to me. To me, it's one of the few brands that has a soul, a multi-generational soul, where it's about what it means to be a leader in the community, in your home, with your friends, and what it means to be a leader and a hero. I think that's an important message right now in the world when everyone's kind of questioning what it means to be the leader of the world.
I think it's not just another action movie. Maybe the first one was that, but we're really trying to break it down and take the shine off and show that my Joes were the ones in the mud, the sand and the trees and in the epic worldwide adventures. Each one had individual talents. So we really want to bring the experience of what I grew up with playing with these toys. What it feels like so that kids now can be reintroduced to the Joes and experience it in a different way. This is like down and dirty Joe for me.
Chu also did a very in depth interview with Todd Gilchrist at Box Office Magazine in which he also talked about his love for G.I. Joe as well as how he thinks his lack of experience will affect the film:
That is a big question. Does dance choreography experience actually translate to action? I don't know the answer, to be honest. I'm not going to rely and say yes, [but] what I love as a parallel is that a dance number without a story is just a dance number – it means nothing to people. It's the same thing with action – the best action sequences are the ones that move our character forward, or when you come out of it you learn something new. So obviously those ideas apply to it, but the biggest thing Lorenzo said to me was, "I don't believe the two are connected, so you're going to have to have other excuses why you want to do this movie." He put me through the wringer, like this is no joke – and I agree. What I love about action is that it has a rhythm, a pacing, and I think that will help a lot, but ultimately it comes down to us watching a story unfold in a different form, so we'll see what we have when we're blowing things up. My main goal is to make sure that we're not doing action for action's sake, but each piece is telling a very specific story.
In his interview with Box Office Magazine, Chu also says that he wants to shoot the film in 3D, has begun to put his team together and was confused about where all the casting info was coming from. Be sure to read all about it here.
Now onto Justin Lin and Terminator 5. Lin spoke to Collider's partner Omlette about his plans for the film:
I think one of the great things is that when I got started, no one would return my calls, and now I get a lot of phone calls, which is good. I have options. Terminator was one of my favorite films growing up. And I feel I have a take that I would love to see, and I've talked with Arnold and we've talked and we'll see. Again, I would love to do it, but it has to be the right circumstances. It has to be the right people. And there's other projects too. But I'm in a position now that I can choose more than I could a year ago, two years ago. So that is something that is potentially in my future, but when I get home I will sit down and look at my options and choose what I want to do.
Are you sold on Chu's enthusiasm and confidence going into G.I. Joe 2? And would you even want to see a new Terminator film, Justin Lin or not?