Watch A Clip From Showtime's 'Homeland,' Starring Claire Danes And Mandy Patinkin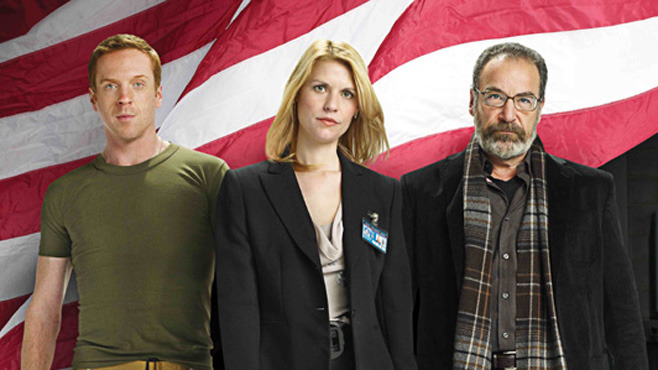 We have a three-and-a-half-minute first look at Showtime's new series Homeland, which the network picked up last week for 12 episodes. The thriller stars Claire Danes as CIA agent Carrie Anderson, who begins to suspect that the recent rescue of longtime POW Scott Brody (Damian Lewis) is actually one piece in a larger terrorist plot by al Qaeda. The always welcome Mandy Patinkin also stars, as Anderson's boss/mentor Saul Berenson. Watch the clip after the jump.
[via Deadline]
Danes may be overdoing it a bit with the intensity here, though it's possible she'll look more natural once we see the clip in context. She's usually a pretty solid actress, and I have to give her credit for stretching her skills over the course of her career. Homeland's Anderson looks nothing like Temple Grandin, who was nothing like Igby Goes Down's Sookie, Romeo + Juliet's Juliet, or My So-Called Life's Angela.
The comparisons to 24 are pretty obvious, given the premise and the fact that two of Homeland's executive producers are Alex Gansa and Howard Gordon. But it's a third exec producer, Gideon Raff, who provides the most direct inspiration — Homeland is based on his Israeli series Prisoners of War.
The series has yet to receive a start date. Production is scheduled to begin this summer.
Showtime's synopsis:
HOMELAND is a psychological thriller that tells the story of Carrie Anderson (Claire Danes), a CIA officer battling her own demons, who becomes convinced that the intelligence that led to the rescue of Scott Brody (Damian Lewis) a U.S. soldier who had been missing and presumed deal for nine years, was a setup and may be connected to an Al Qaeda plot to be carried out on American soil. Mandy Patinkin will portray Saul, a veteran CIA Division Chief who is Carrie's (Danes) boss and mentor. HOMELAND is written by Howard Gordon, Alex Gansa and Gideon Raff, and is based on Raff's Israeli television series "Prisoners of War." The series will be produced by FOX 21.
Discuss: Will you watch Homeland?