Andrew Adamsom Directing 'Mister Pip' Adaptation With Hugh Laurie Starring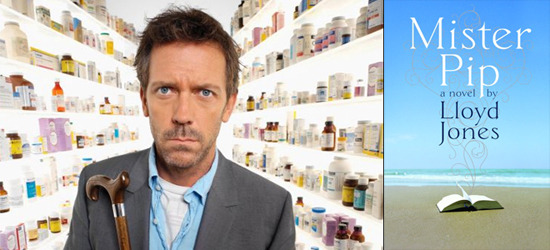 Andrew Adamson, director of Shrek 2 and the first two Narnia movies, has set his sights on Lloyd Jones' novel Mister Pip. He has already written the script based on the book about " the last white man left on the war-torn island of Bougainville, Papua New Guinea, who reopens a school and reads his favorite novel, Great Expectations, to the students," and will produce and direct the film. He's got Hugh Laurie of House fame set to play the lead character.
The director told THR he sparked to the novel immediately, reading the book on a long flight and leaving the plane determined to make the film. There are a host of investors, most of which are from New Zealand, which is part of why the film is shooting there as well as on location in Bougainville.
Here's a recap of the novel, and take note that despite Andrew Adamson's relatively kid-friendly past, this might not be a family film. One review notes "Not every scene is heartrending, however: this story is framed by rape, murder, and civil war."
A promising though ultimately overwrought portrayal of the small rebellions and crises of disillusionment that constitute a young narrator's coming-of-age unfolds against an ominous backdrop of war in Jones's latest. When the conflict between the natives and the invading redskin soldiers erupts on an unnamed tropical island in the early 1990s, 13-year-old Matilda Laimo and her mother, Dolores, are unified with the rest of their village in their efforts for survival. Amid the chaos, Mr. Watts, the only white local (he is married to a native), offers to fill in as the children's schoolteacher and teaches from Dickens's Great Expectations. The precocious Matilda, who forms a strong attachment to the novel's hero, Pip, uses the teachings as escapism, which rankles Dolores, who considers her daughter's fixation blasphemous. With a mixture of thrill and unease, Matilda discovers independent thought, and Jones captures the intricate, emotionally loaded evolution of the mother-daughter relationship.
So there are two other really significant roles to cast: the mother and daughter. Maybe they'll go with an unknown to play the latter — another solid discovery along the lines of True Grit's Hailee Steinfeld would be a great thing.