Anthony Daniels Explains Variable Nature Of New 'Star Tours' And More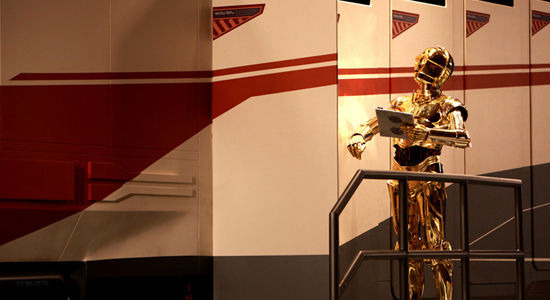 In case you hadn't noticed, we're a little Star Tours obsessed here on /Film. As Star Wars fans, the original ride was usually the highlight of an already awesome trip to Disney and now, the fact that they're updating it with state of the art 3D effects and 54 variable stories featuring a ton of classic locations and characters, is almost too cool for words. In tracking the progress of the ride, officially called Star Tours: The Adventures Continue, opening May 20 at Walt Disney World in Florida and June 3 at Disneyland in California, one of the questions has always been, how does that variable story scenario work?
Anthony Daniels – C-3PO himself – has now dropped a bunch of details both on his role in the ride, some hints of what to expect and explained the variable nature of the whole thing. Think "slot machine." Read what he had to say below.
In an interview with the Los Angeles Times, Daniels has a whole bunch to say about the new ride and he should. C-3Po is actually the one flying the ship everyone is riding in: (We'll ignore the fact that C-3PO never flew a ship in the Star Wars movies and even explicitly said that he hates flying. Deep breath.)
Threepio is the pilot, and it's huge for me. [Senior Creative Executive of Walt Disney Imagineering] Tom Fitzgerald, who sold me the concept [of the first Star Tours attraction] 20-some years ago, sat across a desk and acted out the whole ride for me — he's that kind of guy and just one of my favorite people. He came to England about two years ago, and we were sitting there having drinks when he said, 'I want to tell you about the new Star Tours. The bit you're going to really like is that C-3PO gets to be the pilot.' I kept it a secret for a while, but we had to admit it. As soon as the build started and C-3PO was put in the flight simulator, the news was going to get out.
The latest update is that the ride is done and they're inputting the pre-show right now. And that pre-show is important.
I won't tell you why, but all I'm going to say is when you're in your loading position about to get on the Starspeeder 2000, just watch the monitors. Please pay close attention. There's a lot of footage there that we spent months creating and this whole storyline is going on, so don't miss it because you're looking at the floor. The pre-show is something you'll want to enjoy before you reach the cabin. And then when you're inside, of course, and the doors close and you have your seatbelt on, you're off on the adventures of a lifetime.
As for the variable nature, the LA Times article describes the ride as "divided into three acts, and each of them has multiple variables, so riders could find a completely different experience on the second, third or fourth run through." Here's Daniels:
It is beyond inventive. You're going to much love it, and you're going to much love it 54 times. You may never see all of it. It's completely random. So you may see the same thing three times or you may have three different [ride sequences]. So there's this extraordinary sort of slot machine effect, isn't there? You don't know what's going to come up in the rows in those windows. It could be triple cherry. Each ride is gorgeous within in its own light. You will go back more than once.
He continues:
I just recorded [the voices for the ride.] I will tell you I got very confused in the recording; how they kept track of which storyline we were on, I have no idea. The inventiveness of the way they segue is remarkable. You wouldn't know that you're about to go into a different storyline and then come out of that and go back to the old one. You can bounce around and, really, the internal makings of this are extraordinary. It's like nobody's business. It branches, and you don't know which branch you're following. And I had to try to understand it all because I'm flying this stuff. It took way longer to record [than comparable types of jobs]; it was two solid days recording, and by the end of it I was just exhausted. A lot of it is 'peril acting,' and that's pretty hard on your vocal cords.
And that's not all from the very wordy actor:
There are things they have not told you — and I'm not going to tell you those — but there are experiences that are unique to this ride. There are things that they've done, things that I don't believe have been done before and certainly not in this way. You are going to be knocked out. Look, I don't get paid any more money for being nice  about it. I've already been paid. And I can tell you this: I adore it. I can't wait to get on the ride and see it myself and, well, see myself.
Daniels has never been one to shy away from upselling any and everything he's involved with but it surely sounds like Star Tours: The Adventures Continue is going to be a big part of Disney memories for a long time to come.